1. Upload the program file of the HMI to the USB disk, and then copy it to the PC (or use the file on the USB disk directly)
2. Check out the file that was previously copied from the HMI in the file browser. The original file doesn't have an extension file name.

3. Add the extension file name

"xob" or "exob"

4.

Run EasyBuilder Pro, select "Tool / Decompile". The "Decompile" dialog pops up.

5. Click the "Browse" button, and find the .xob file that has been added extension name in the previous step.
6. When the .xob file is selected, make sure that the decompile password must be the same as the upload password. Click the "Decompile" button to start to decompile. When the "succeeded" a message appears the de-compilation is completed. Click "Exit" to leave.

7. After de-compilation, open the file that was being decompiled (which now becomes

*.mtp

file). You can edit it using EasyBuilder Pro now.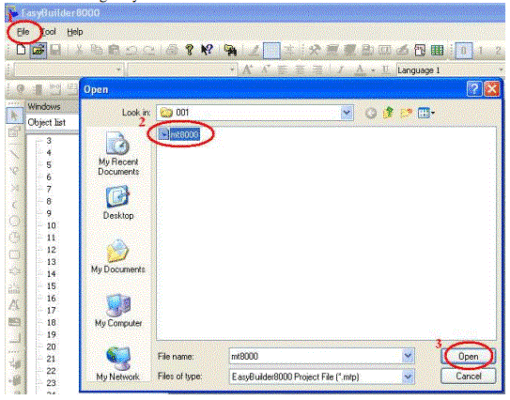 8. Open the .mtp file, the editing environment as your wish. As like as same system of exob file decompilation. There has shown decompile error or prohibited password protected please communicate with below helpline for both of solution (xob, exob decompilation)