oscilloscope price in bd. However, the 2-Channel Digital Oscilloscope DSO4202C is an advanced instrument designed for both hobbyists and professionals in the field of electronics. Moreover, with its compact design and powerful features. Therefore, it is the perfect tool for measuring and analyzing electrical signals in real time.
In other words, featuring a high-resolution color display, this oscilloscope offers a clear and accurate waveform display with a large, easy-to-read screen. In other words, with its 2-channel, it can simultaneously display multiple signals for comparison and analysis. Therefore, the DSO4202C also features a maximum sample rate of 1GSa/s and a maximum record length of 40K, ensuring precise and detailed waveform capture.
More About Oscilloscope Price In BD
In conclusion, the oscilloscope also comes with advanced triggering capabilities. Accordingly, including edge, video, pulse, slope, and alternate trigger modes. Therefore, this allows you to accurately capture even the most complex waveforms. However, and its adjustable trigger level, trigger hold-off, and trigger delay control make it easy to get the perfect trigger every time.
Moreover, the DSO4202C also features a built-in waveform memory, allowing you to save and recall waveforms for future reference or analysis. For instance, It also comes with a USB port for easy data transfer to a computer for further analysis or storage.
In addition to its advanced features, the DSO4202C is also user-friendly and easy to operate. Additionally, with its intuitive interface and included user manual, you can start using it right away. Afterward, even if you have no prior experience with oscilloscopes.
In conclusion, the 2-Channels Digital Oscilloscope DSO4202C is powerful. An altogether versatile, and easy-to-use instrument that is perfect for anyone in the electronics field. Basically, Although this may be true, Whether you are a hobbyist, a student. Another key point, or a professional, it is an essential tool for measuring and analyzing electrical signals.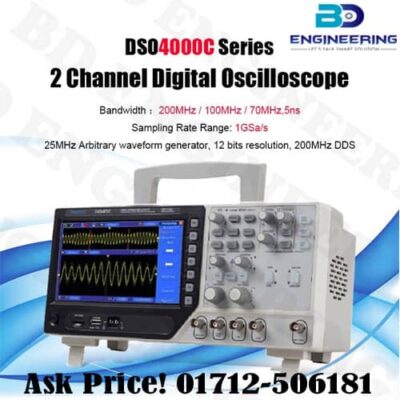 Technical data 2-Channels Digital Oscilloscope DSO4202C:
 Description
 Function
 Wave-form
Model/Brands
DSO4202C
DSO4102C
DSO4072C
Oscilloscope

Function Waveform Generator

Sample Rate

Sampling Rate Range: 1GSa/s
Equivalent Sample Rate: 25GSa/s
Acquisition Mode of 2 – Channels Digital Oscilloscope-DSO4202C:
Normal
Normal data only
Peak Detect
High-frequency and random glitch capture
Average
selectable 4,8,16,32,64,128″}'>selectable 4,8,16,32,64,128″}'>selectable 4,8,16,32,64,128″}'>selectable 4,8,16,32,64,128″}'>selectable 4,8,16,32,64,128″}'>selectable 4,8,16,32,64,128″}'>selectable 4,8,16,32,64,128″}'>selectable 4,8,16,32,64,128″}'>selectable 4,8,16,32,64,128″}'>selectable 4,8,16,32,64,128″}'>selectable 4,8,16,32,64,128″}'>selectable 4,8,16,32,64,128″}'>selectable 4,8,16,32,64,128″}'>selectable 4,8,16,32,64,128″}'>selectable 4,8,16,32,64,128″}'>selectable 4,8,16,32,64,128″}'>selectable 4,8,16,32,64,128″}'>selectable 4,8,16,32,64,128″}'>selectable 4,8,16,32,64,128″}'>selectable 4,8,16,32,64,128″}'>selectable 4,8,16,32,64,128″}'>selectable 4,8,16,32,64,128″}'>selectable 4,8,16,32,64,128″}'>selectable 4,8,16,32,64,128″}'>selectable 4,8,16,32,64,128″}'>selectable 4,8,16,32,64,128″}'>selectable 4,8,16,32,64,128″}'>selectable 4,8,16,32,64,128″}'>selectable 4,8,16,32,64,128″}'>selectable 4,8,16,32,64,128″}'>selectable 4,8,16,32,64,128″}'>selectable 4,8,16,32,64,128″}'>selectable 4,8,16,32,64,128″}'>selectable 4,8,16,32,64,128″}'>selectable 4,8,16,32,64,128″}'>selectable 4,8,16,32,64,128″}'>selectable 4,8,16,32,64,128″}'>selectable 4,8,16,32,64,128″}'>selectable 4,8,16,32,64,128″}'>selectable 4,8,16,32,64,128″}'>selectable 4,8,16,32,64,128″}'>selectable 4,8,16,32,64,128″}'>selectable 4,8,16,32,64,128″}'>selectable 4,8,16,32,64,128″}'>selectable 4,8,16,32,64,128″}'>selectable 4,8,16,32,64,128″}'>selectable 4,8,16,32,64,128″}'>selectable 4,8,16,32,64,128″}'>selectable 4,8,16,32,64,128″}'>selectable 4,8,16,32,64,128″}'>selectable 4,8,16,32,64,128″}'>selectable 4,8,16,32,64,128″}'>selectable 4,8,16,32,64,128″}'>selectable 4,8,16,32,64,128″}'>selectable 4,8,16,32,64,128″}'>selectable 4,8,16,32,64,128″}'>selectable 4,8,16,32,64,128″}'>selectable 4,8,16,32,64,128″}'>selectable 4,8,16,32,64,128″}'>selectable 4,8,16,32,64,128″}'>selectable 4,8,16,32,64,128″}'>selectable 4,8,16,32,64,128″}'>selectable 4,8,16,32,64,128″}'>selectable 4,8,16,32,64,128″}'>selectable 4,8,16,32,64,128″}'>selectable 4,8,16,32,64,128″}'>selectable 4,8,16,32,64,128″}'>selectable 4,8,16,32,64,128″}'>selectable 4,8,16,32,64,128″}'>selectable 4,8,16,32,64,128″}'>selectable 4,8,16,32,64,128″}'>selectable 4,8,16,32,64,128″}'>selectable 4,8,16,32,64,128″}'>selectable 4,8,16,32,64,128″}'>selectable 4,8,16,32,64,128″}'>selectable 4,8,16,32,64,128″}'>selectable 4,8,16,32,64,128″}'>selectable 4,8,16,32,64,128″}'>selectable 4,8,16,32,64,128″}'>selectable 4,8,16,32,64,128″}'>selectable 4,8,16,32,64,128″}'>selectable 4,8,16,32,64,128″}'>selectable 4,8,16,32,64,128″}'>selectable 4,8,16,32,64,128″}'>selectable 4,8,16,32,64,128″}'>selectable 4,8,16,32,64,128″}'>selectable 4,8,16,32,64,128″}'>selectable 4,8,16,32,64,128″}'>selectable 4,8,16,32,64,128″}'>selectable 4,8,16,32,64,128″}'>selectable 4,8,16,32,64,128″}'>selectable 4,8,16,32,64,128″}'>selectable 4,8,16,32,64,128″}'>selectable 4,8,16,32,64,128″}'>selectable 4,8,16,32,64,128″}'>selectable 4,8,16,32,64,128″}'>selectable 4,8,16,32,64,128″}'>selectable 4,8,16,32,64,128″}'>selectable 4,8,16,32,64,128″}'>selectable 4,8,16,32,64,128″}'>selectable 4,8,16,32,64,128″}'>selectable 4,8,16,32,64,128″}'>selectable 4,8,16,32,64,128″}'>selectable 4,8,16,32,64,128″}'>selectable 4,8,16,32,64,128″}'>selectable 4,8,16,32,64,128″}'>selectable 4,8,16,32,64,128″}'>selectable 4,8,16,32,64,128″}'>selectable 4,8,16,32,64,128″}'>selectable 4,8,16,32,64,128″}'>selectable 4,8,16,32,64,128″}'>selectable 4,8,16,32,64,128″}'>selectable 4,8,16,32,64,128″}'>selectable 4,8,16,32,64,128″}'>selectable 4,8,16,32,64,128″}'>selectable 4,8,16,32,64,128″}'>selectable 4,8,16,32,64,128″}'>selectable 4,8,16,32,64,128″}'>selectable 4,8,16,32,64,128″}'>selectable 4,8,16,32,64,128″}'>selectable 4,8,16,32,64,128″}'>selectable 4,8,16,32,64,128″}'>selectable 4,8,16,32,64,128″}'>selectable 4,8,16,32,64,128″}'>selectable 4,8,16,32,64,128″}'>selectable 4,8,16,32,64,128″}'>selectable 4,8,16,32,64,128″}'>selectable 4,8,16,32,64,128″}'>selectable 4,8,16,32,64,128″}'>selectable 4,8,16,32,64,128″}'>selectable 4,8,16,32,64,128″}'>selectable 4,8,16,32,64,128″}'>selectable 4,8,16,32,64,128″}'>selectable 4,8,16,32,64,128″}'>selectable 4,8,16,32,64,128″}'>selectable 4,8,16,32,64,128″}'>selectable 4,8,16,32,64,128″}'>selectable 4,8,16,32,64,128″}'>selectable 4,8,16,32,64,128″}'>selectable 4,8,16,32,64,128″}'>selectable 4,8,16,32,64,128″}'>selectable 4,8,16,32,64,128″}'>selectable 4,8,16,32,64,128″}'>selectable 4,8,16,32,64,128″}'>selectable 4,8,16,32,64,128″}'>selectable 4,8,16,32,64,128″}'>selectable 4,8,16,32,64,128″}'>selectable 4,8,16,32,64,128″}'>selectable 4,8,16,32,64,128″}'>selectable 4,8,16,32,64,128″}'>selectable 4,8,16,32,64,128″}'>selectable 4,8,16,32,64,128″}'>selectable 4,8,16,32,64,128″}'>selectable 4,8,16,32,64,128″}'>selectable 4,8,16,32,64,128″}'>selectable 4,8,16,32,64,128″}'>Waveform Average selectable
Inputs/Channel
1-channel
2-channel
4-Channel
Inputs Coupling
AC DC GND
Inputs Impedance
1M2% 20pF3pF
Probe Attenuation
1X 10X
Supported Probe
1X 10X 100X 1000X

Input Voltage

CAT I and CAT-300VRMS
Installation Category derates at 20dB / decade above 100kHz to 13V peak AC at 3MHz and above
Brand

Hantek DSO4202C
Our Other Products:
2 – channel Module digital output (750-502) – WAGO
Enmos S268 Compact washing machine Controller Supplier in Bangladesh
2 – channel analog input terminal