Beckhoff Thermocouple FM3312-B310 price in BD? The FM33xx-B310 Fieldbus Modules permit 12 or 32 thermocouples to be associated with a module. The interfacing hardware for these various thermocouples is housed in a reduced, sprinkle-resistant lodging and has a PROFIBUS DP connect with a transmission pace of 12 Mbaud. Information is for the most part traded consistently, albeit non-cyclic administrations ("DP-V1") are additionally accessible for definition and finding.
How to The module's circuit can work with thermocouple sensors utilizing a 2-wire association.
Linearization over the full temperature range is acknowledged with the guide of a chip. The temperature reach can be chosen openly. The blunder LEDs show a messed-up wire. Remuneration for the cool intersection is made through a temperature estimation in the interfacing plugs. This implies that standard augmentation leads can be associated. The Fieldbus Modules have back-voltage assurance hardware to safeguard against outside voltages applied to the thermocouple inputs. Voltages of up to 230 V AC are endured without harm to the module. Those thermocouple inputs that are not impacted remain practically usable or are just impacted for a brief time frame.
The drawn-out definition might be done either by means of the Fieldbus or, utilizing the KS2000 programming instrument, through the design interface. The boundaries are put away in the module. The situation with the Fieldbus Module is demonstrated through LEDs.
The various renditions of the FM33xx-B310 Fieldbus Module contrast as far as the quantity of accessible thermocouple input channels (12 or 32 channels), the sort of thermocouple that is executed (type J or K), and the lodging type (cut on lodging An or add-on lodging B). The extra lodging (type B) highlights two locking hooks and a ceaseless elastic seal to give an IP65 association with the attachment component. Also, lodging type B highlights two cast sections with openings for connecting the FM module to mounting plates (through-opening mounting).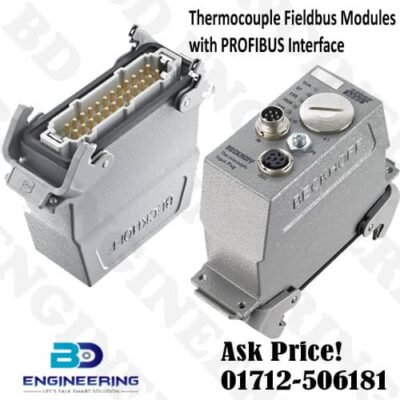 Beckhoff Thermocouple FM3312-B310 FM3332-B310 price in BD And Specification
Fieldbus
PROFIBUS DP
Data transfer rates
Maximum 12Mbaud
Configuration possibility
via KS2000 or the Controller
Fieldbus connection
DIN 45322 6-pin screw type
Thermocouple channels
12-CH
32-CH
Thermocouple connections
Industrial plug-in connection 2-wire connection
Cable length
max. 10m
Sensor types
Type J, K, mV Measurement
Measuring range
Type J: -10…+900 °C; type K: -100 to +1370 °C
Resolution
0.1 °C per digit
Conversion time
Approx. 250ms
Measurement
< ±0.5%
Input filter
5 Variations, Configurable
Power supply
24 V DC (-15 %/+20 %)
Current Consumption
type 90 mA/max. 120 mA
typ. 100 mA/max. 130 mA
Bit width in the process image
Input: 4 x 16 bit data, Optional: 4 x 8 bit Control/status
Electrical Isolation
Channels/Control Voltage: 500 V, between the channels: no, control Voltage/Fieldbus: 100 V (PROFIBUS)
Housing type A
Industrial plug-in Connector, Han24B
Housing type B
add-on housing AGG + locking bracket
Housing pin insert
Han24E
Han64D
Contacts
hard gold plated
Dimensions (L x W x H)
Type A: 120 mm x 52 mm x 129 mm, type B: 150 mm x 52 mm x 129 mm
Weight
Type A: 950g, type 1030g
Operating/storage temp.
0 to +55 °C/-25 to +85 °C
EMC Immunity
EN 61000-6-2/EN, 61000-6-4
Protect. rating
Housing to IP65 (PROFIBUS Connector: IP67)
BD Engineering Solution is the biggest Industrial Automation spare parts Importer in Bangladesh for more information please contact us. We are 24/7 available on our BD Engineering Solution Facebook page.
Our Other Beckhoff Products:
Injection machine Beckhoff thermocouple input tc-plug for Husky
Ethernet Switch Beckhoff CU2008 8-Port
BECKHOFF EL6900 Twin Safe logic
Beckhoff EK1100 Ethercat Bus cupler
EL6751 Beckhoff EtherCAT Master/Slave Terminal for Network
6GK1500-0EA02 PROFIBUS bus connector with axial cable outlet for Industry