The B&R X20CP0292 is a compact and powerful programmable logic controller (PLC). That is design for use in a wide range of industrial automation applications. It features a high-performance processor, a wide range of I/O modules. And an extensive set of communication options, making it a versatile and flexible solution for control and monitoring tasks.
At its core, the X20CP0292 is power by an Intel Atom processor, which provides fast and reliable processing of program instructions. It is also equippe with a high-speed bus system that enables fast communication between the CPU and the various I/O modules. This allows for real-time monitoring and control of connected devices, even in complex systems with many inputs and outputs.
More About B&R X20CP0292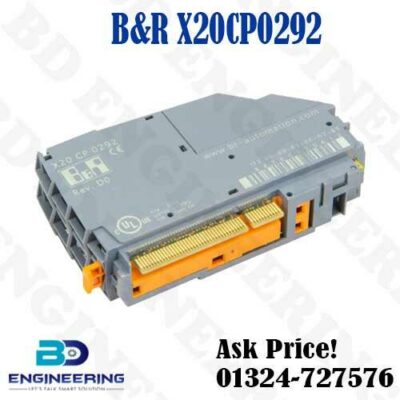 In terms of I/O modules, the X20CP0292 offers a wide range of options to suit different application requirements. These modules include digital and analog inputs and outputs, as well as specialized modules for tasks such as temperature measurement and pulse counting. This flexibility allows the PLC to be customize to meet the specific needs of the application.
The X20CP0292 also offers a range of communication options, including Ethernet, RS-232, and RS-485. This allows the PLC to communicate with other devices in the network, such as HMIs, SCADA systems, and other PLCs. It also supports popular industrial communication protocols such as Modbus TCP, PROFIBUS, and CANopen, making it easy to integrate into existing systems.
One of the key features of the X20CP0292 is its compact and rugged design. It is built to withstand harsh industrial environments, with robust housing that protects the internal components from dust, moisture, and other contaminants. It also has a wide operating temperature range, making it suitable for use in both indoor and outdoor environments.
In summary, the B&R X20CP0292 is a versatile and powerful PLC that offers a wide range of features and options to suit different industrial automation applications. With its high-performance processor, flexible I/O modules, and extensive communication options, it is a reliable and efficient solution for controlling and monitoring tasks in complex industrial systems. For more information please contact us as soon as possible or follow our BD Engineering Solution Facebook.
Our Other Products:
B&R/BNR PLC-HMI-Monitor-Display Distributor-Agent-Supplier-Importer-in-BD
FR-A8NCE Mitsubishi Electric CC-Link Communication Module Plug-in type
Danfoss PROFINET Option A MCA120 130B1235 VLT FOR INVERTER-VFD
cpu base modules are used on the bus module X20BB80