In conclusion, Our buyers want to be aware. NPort 5150 prices in bd. However, We informed them kindly contact our authority live help group and get your best cost. Moreover, Visit our authority BD Engineering Solution Facebook page.
NPort 5150 value Features and Benefits
Little size for simple establishment
Genuine COM and TTY drivers for Windows, Linux, and macOS
Standard TCP/IP interface and flexible activity modes
Simple to-utilize Windows utility for designing various device servers
SNMP MIB-II for network the board
Arrange by Telnet, internet browser, or Windows utility
Customizable draw high/low resistor for RS-485 ports
NPort 5150 cost in bd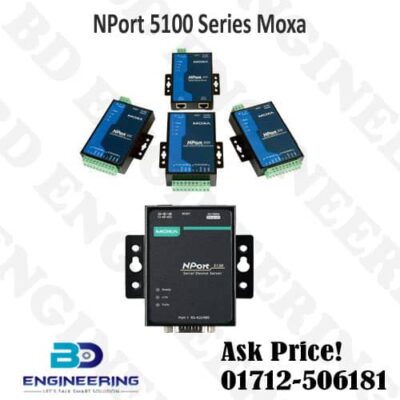 NPort® 5100 device servers are planned to make consecutive organization arranged in a second. The little size of the servers makes them ideal for connecting , for instance, card perusers and portion terminals to an IP-based Ethernet LAN.
NPort 5150 price in bd
Generally Cost-convincing Serial-to-Ethernet Solution
Using consecutive servers to connect legacy successive to Ethernet is as of now customary, and clients guess that servers ought to be functional and to give a far reaching decision of significant capacities. With its full assistance of Microsoft and Linux working structures areas of strength for and year ensure, the NPort® 5100 Series gives the best choice to successive to-Ethernet converters.
Versatile Termination and Pull High/Low Resistors
In a couple of essential circumstances, end resistors may be expecte to thwart the impression of successive signs. While using end resistors, it is also fundamental for set the power high/low resistors precisely so the electrical sign isn't debase. Since no course of action of resistor values is generally feasible with all circumstances, the NPort® 5100 servers go with jumpers for changing end and pull high/low resistor values for each successive port.
Standard TCP/IP Interface and Modes Operation
The NPort® 5100 servers can be designe for TCP Server, TCP Client, UDP Server/Client, Pair Connection, or Ethernet Modem mode, ensuring comparability with programming considering a standard association API (e.g., Winsock or BSD Sockets).
Certified COM/TTY Drivers for Existing Software
Foundation and configuration are, and grant your and PC to pass reliably on over a TCP/IP association. Using Moxa's Real COM/TTY drivers is an extraordinary technique for saving your item hypothesis while at this point allowing you to participate in the benefits of frameworks organization your successive.
Easy to Troubleshoot
NPort® 5100 device servers support SNMP, which can use to screen all units over Ethernet. Each unit can organize to send trap messages normally to the SNMP manager when clients portrays encounters. For clients who don't use SNMP boss, an email mindfulness can send all things considere. Clients can portray the trigger for the cautions Moxa's Wiandows utility, or the web console. For example, can be set off by a warm start, an infection start, or an of mystery key.
Our other product
Siemens HMI TP1200 Comfort 6AV2124-0MC01-0AX0
Omron CJ1W-OD233 16-point DC Input/16-point Transistor Output Unit
S7-400 PLC Extension Module 6ES7 421-1BL01-0AA0
SIEMENS S7-200 PLC Battery Cartridge 6ES7 291-8BA20-0XA0
KL2134 Beckhoff 4-CH digital output terminal
KL2022 price Beckhoff 24 VDC Digital Output Module
EL1014 Beckhoff 4-channel digital input module
EL2004 Digital Output Module Beckhoff
EL4732 Analog Output Module Beckhoff Card