In other words, the Powerex IGBT Module QRS1450001 (Insulate Gate Transistor) Module is high-performance. Power semiconductor device designe for use in various industrial applications. Such as motor drives, inverters, and power supplies. The module is a packaged assembly that includes multiple IGBTs and free-wheeling diodes. Connected in a half-bridge or full-bridge configuration. Along with an integrated heat sink for efficient thermal management.
How to Work Powerex IGBT Module QRS1450001
However, IGBTs are three-terminal devices that combine the high-speed switching capability. Moreover, Of a MOSFET with the high-voltage and high-current handling capability of a junction transistor. In a Powerex IGBT Module. The IGBTs are controll by a gate signal that switches the devices on and off. When the IGBT is on, it allows current to flow through the device and when it is off. It blocks current flow. The free-wheeling diodes provide a path for the inductive. Load current when the IGBT is turn off, thus preventing voltage spikes and protecting the device from damage.
The Powerex IGBT Module operates by accepting a control signal that switches the IGBTs on and off at a specific frequency, depending on the application requirements. The module is capable of switching at high frequencies of up to several tens of kilohertz, which is important for achieving high efficiency and reducing losses in power electronics systems.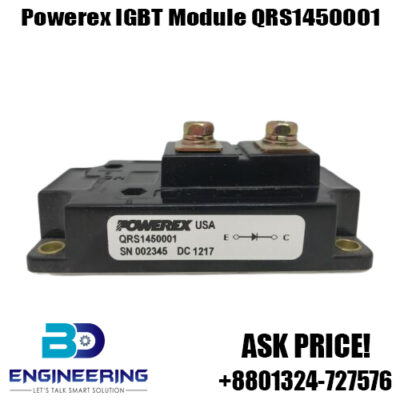 More About Powerex IGBT Module QRS1450001
The integrated heat sink in the Powerex IGBT Module provides efficient cooling for the module, allowing it to operate reliably within its specified temperature range. The heat sink is design to transfer the heat generat by the IGBTs and diodes to the surrounding environment, typically through forced air or liquid cooling.
Overall, the Powerex IGBT Module is a powerful and efficient switching module that offers reliable and high-performance operation for a wide range of industrial applications. Its high-frequency switching capability, low on-state losses, and integrated heat sink make it an ideal solution for high-power and high-efficiency power electronics systems. Follow our BD Engineering Solution on Facebook
Our Other Product :
VIPA 222-1HD10 SM222 DIGITAL OUTPUT 4 RELAY OUTPUTS 230VAC/30VDC 5A
DC Power Supply 3005D 0-30V 5A Adjustable 4 Digit Display for Circuit Repair service
Q Series PLC Mitsubishi USB-QC30R2-Cable sales price in bd