weintek 10.4 inch tft lcd price in bd? Weintek 10.4 INCH MT510TV TFT LCD DISPLAY. Use RISC processors in 400Mhz. It embraces TFT show with LED backdrop illumination. Carry out electrical separation from the power supply. Plausibility of association with USB 2.0. SD card space, for recipes (Except MT6050i). The new form of the EasyBuilder 8000 advancement climate permits the import of undertakings created with the past EasyBuilder 500 rendition to adjust them to the new group of terminals. The new 10 ″ terminal (MT6100i) has similar aspects as the past MT510TV5, a unique casing is accessible for mounting on the boards where the MT510TV4 (bigger size) was predicted.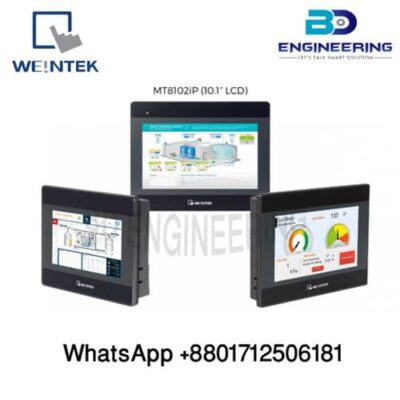 Technical Data Weintek Tft Lcd Specification
Weintek HMI

Manufacturer : Weintek
MT510TV
Display : 10.4″ TFT
Brightness : 400 cd/m2
Color : 256 color
Contrast Ratio : 300:1
Resolution (WxH dots) : 640 x 480
Back light : CCFLx2
CCFL life time : 50,000 hr. min
Touch panel : 4 wires resistive type
Touch Accuracy : 2mm
Surface Hardness : 4H

Serial port : HMI-PC (RS-232) | HMI-PLC (RS-232/485)

Ethernet port Processor : 10Mbps
Flash Memory : 2MB
Recipe memory : 128kB
Compact Flash card slot : N/A
RTC : Yes
Parallel Printer port : Yes
System Diagnostic : Power failure detection
Input Power : 24±5% VDC

Maximum Power Consumption : 440 mA, 24VDC

Complies with EN50081-2 and EN50082-2 standards

Complies with FCC Class A
More About Weintek 10.4 Inch Tft Lcd
This TFT LCD display is one of the best displays we have seen this display has a 10.4″ TFT Panel which makes your work simple. And also has Ethernet port Processor : 10Mbps. In other words, this TFT Display is one of the best displays on a budget. This display Complies with EN50081-2 and EN50082-2 standards. If you wanna buy this display from us please follow our BD Engineering Solution for more information about this product.
Our other products:
Weintek eMT3070B HMI 7 inch Graphic touch screen smart hmi
MT8071IP HMI WEINTEK 7 inch HMI Ethernet Touch Panel Display
eMT3070B Weintek 7 inch Graphic touch screen smart hmi