Siemens S7-1500 Digital output Module 6ES7 522-5FH00-0AB0 Price in bd and specification.Properties The module has the following technical properties, 16 digital outputs (Triac),  Rated output voltage of 120 V/230 V AC, a Rated output current of 1A (per channel), Configurable substitute values (per channel), and Suitable for solenoid valves, DC contactors, indicator lights, and smaller single phase drives.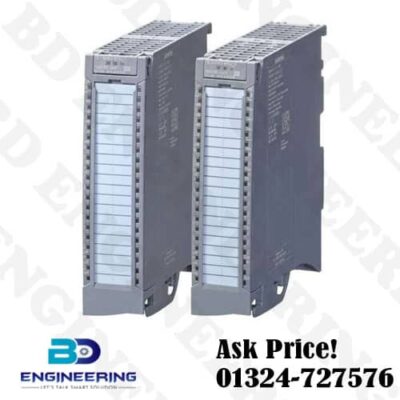 Parameters:
DQ 16x230VAC/1A ST parameters, When you assign the module parameters in STEP 7, you use various parameters to specify, the module properties. The table below lists the parameters that can be set. The effective range of the configurable parameters depends on the type of configuration. The following configurations are possible:
● Central operation with an S7-1500 CPU
● Distributed operation on PROFINET IO in an ET 200MP system
For parameter assignment in the user program, the parameters are transferred to the module using the WRREC instruction (reconfiguration in RUN) and data records; see
chapter Parameter assignment and structure of the parameter data records (Page 27).
Reaction to CPU STOP Determines the reaction of the output to the CPU going into STOP state or when the connection to the CPU is interrupted. 4.3 Address space The module can be configured differently in STEP 7; see following table. Depending on the configuration, additional/different addresses are assigned in the process image output/input. Configuration options of DQ 16x230VAC/1A ST You can configure the module with STEP 7 or with a GSD file. When you configure the module by means of the GSD file, available under different short designations/module names.The following configurations are possible
6ES7 522-5FH00-0AB0 Price in BD and Specification
Product type designation
DQ 16x230VAC/1A ST (Triac)
General information
Hardware version
E01
Firmware version
V1.0.0
Product function
I&M data
Yes; I&M0 to I&M3
Engineering with
STEP 7 TIA Portal can be configured/integrated
as of version
V13 SP1 / –
STEP 7 can be configured/integrated as of version
V5.5 SP3 / –
PROFIBUS as of GSD version/GSD revision
V1.0 / V5.1
PROFINET as of GSD version/GSD revision
V2.3 / –
Operating mode
MSO
Yes
Output voltage
Rated value (AC)
120/230 V AC, 50/60 Hz
Power
Power consumption from the backplane bus
1.2 W
Power loss
Power loss, typ.
11.1 W
Digital outputs
Number of outputs
16
Sinking output
Yes
Sourcing output
Yes
Short-circuit protection
No
Switching capacity of outputs
With resistive load, max.
1 A
With lamp load, max.
50 W
Output voltage
For signal "1", min.
L1 (-1.5 V) at maximum output current; L1
(-8.5 V) at a minimum output current
Isochronous mode
Isochronous mode (application synchronized up to
terminal)
No

Interrupts/diagnostics/status information

Substitute values can be applied Interrupts
Diagnostics interrupt Diagnostics alarms Diagnostics
Monitoring of supply voltage Wire break
Short-circuit Fuse blown
Diagnostics indicator LED RUN LED
ERROR LED
Monitoring of the supply voltage (PWR LED) Channel status display
For channel diagnostics
Yes

No

No No No No No

Yes; green LED Yes; red LED No
Yes; green LED
No

For module diagnostics
Yes; red LED
Electrical isolation
Electrical isolation of channels Between the channels
Between the channels, in groups of
Between the channels and the backplane bus
No 2
Yes
Permitted potential difference
Between different circuit
250 V AC between the channels and the back-
plane bus; 500 V AC between the channels
Insulation
Insulation tested with
2500 V DC
Distributed operation
Prioritized startup
Yes
Dimensions
Width Height
Depth
35 mm
147 mm
129 mm
Weights
Weight, approx.
310 g
We are 24/7 available on Facebook for more information please contact us as soon as possible following our BD Engineering Solution Facebook right now.
Our Other Products:
SIMATIC S7-1500 6ES7511 CPU 1511-1PN SIEMENS PLC PRICE, SUPPLIER IN BD
Beckhoff EK1122 Price in Bangladesh, EtherCAT Junctions 2port
SINAMICS VFD S120 BASIC OPERATOR PANEL BOP20 6SL3055-0AA00-4BA0
ABB ACS150 03E 04A1 4 Inverter Drive price in BD
Siemens S7-1500 6ES7 515-2AM00-0AB0 CPU1515-2PN WITH WORKING MEMORY 500KB