ADLINK Module with Intel Atom E3800 Series LENZE IPC CPU. Moreover, ADLINK ETX-BT ETX Module with LENZE IPC CPU. Therefore, it is based on the newest Intel Atom processor E3800 SoC series. It also good for adopting the latest 22nm process technology which has 3-D Tri-Gate transistors. The ETX-BT ETX  provides significant improvements in computational performance and energy efficiency. On the other hand, E3800 series integrates processor and GPU cores and all I/O on a single chip.
ADLINK ETX-BT ETX Module with LENZE IPC CPU
It can be Single, dual or quad-core Intel
Atom™ system is SoC or Celeron Processor
Single SODIMM for 4GB maximum and DDR3L 4 GB maximum
Single SODIMM 1333 MHz at DDR3L
The channel no. is two and gives 24-bit LVDS (analog VGA)
SATA or PATA is consecutively 2 (for Master only), 4x USB 2.0, 10/100 M bps LAN
Max. operating temperature: -40°C to +85°C
Helps Smart Embedded Management Agent (SEMA) systems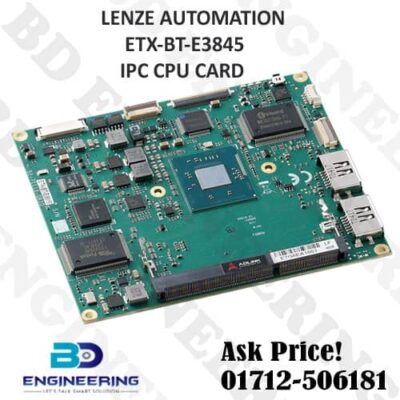 More About ADLINK Module
Inconclusion, the module gives a single SODIMM for max. 8GB of DDR3L system memory. It proceed with integrated support for good resolution VGA. Further more, another display can be joined through an onboard flat cable connector. Besides, it helps graphics for core supporting two independent displays which easily outperforms earlier ETX module generations. ETX-BT standard comes for support one SATA and one PATA. But the special part can support max. 2 SATA or max. two PATA. Above all, the module allows an optional soldered SATA-based SSD which have the capacity of 2 to 64 GB. For more information contact us.
Our Other Product
LENZE INVERTER Supplier in Bangladesh 8200 VECTOR TYPE E82EV302_2C
SIMATIC HMI IPC 577C 6AV7885-0AK10-2AA1 DDR3 1GB PCI-SLOT
LENZE AUTOMATION EPC-55 Rev02 Main board for IPC Zimmer Color Machinery