The Beckhoff EL3064 EtherCAT Terminal a high-performance analog input module designed. To provide precise measurement and control capabilities in industrial automation applications. This terminal is part of the Beckhoff EtherCAT system. Which is a leading-edge solution for real-time communication in automation technology.
The EL3064 module designed to offer four channels of single-ended or differential analog inputs. That are compatible with a wide range of sensors and measuring devices. Each channel has a resolution of 16 bits. which provides high-precision measurement accuracy. Additionally, the terminal features a sampling rate of up to 10,000 samples per second. Making it suitable for high-speed applications that require rapid data acquisition and processing.
Beckhoff El3064 EtherCAT Terminal 4-channel Analog Input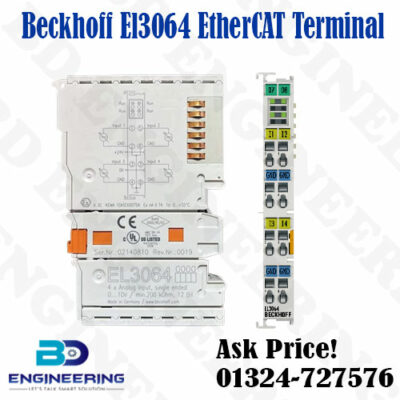 One of the key features of the EL3064 module is its built-in filter and signal processing capabilities. Which help to eliminate noise and ensure stable, accurate measurements. The terminal also features an integrat temperature sensor. Which can be use to compensate for temperature-related. Variations in analog signal measurements.
The EL3064 module is design to be highly flexible and customizable. With a wide range of configuration options and compatibility with multiple communication protocols. It supports standard EtherCAT communication as well as several other fieldbus protocols. For instance, Making it easy to integrate into existing automation systems.
The terminal is house in a compact, rugg housing that is design to withstand harsh industrial environments. It features a wide operating temperature range of -25°C to +60°C. Making it suitable for use in a wide range of applications.
Overall, the Beckhoff EL3064 EtherCAT Terminal is an excellent choice for industrial automation applications that require high-precision analog input measurement and control capabilities. Moreover, it's advanced features and flexible, customizable design make it an ideal solution for a wide range of applications, from simple control tasks to complex data acquisition and processing systems. For more information please contact us on our BD Engineering Solution Facebook page.
Our Other Products:
FL Mguard rs4000 tx/tx order number 2700634
Stepper Motor & Drive for motion Control easy installation
Siemens 6AV6643-0AA01-1AX0 SIMATIC TP277 Touch Panel 6-inch MPI/DP/PPI/PN
EK1100 EtherCAT Bus Coupler Module Beckhoff Price in Bangladesh