Cfast Industrial memory card 2GB, 4GB, 8GB, 16GB, 32GB price in BD. NVMe, SSD, HDD, Compact Flash-CF, Cfast, Mirco SD Memory Card is available in BD
CFast Memory Card
Swissbit's CFast™ CardThe CFast card from Swissbit cumulates the pristine CompactFlash (CF) card form factor with a Serial ATA (SATA) interface. With this melding of two industry standards, the CFast card designation was engendered, sanctioning incipient applications in the embedded and industrial markets.
The CFast card can be operated utilizing a single 3.3 V (+ / -5%) low power source and fortifies three SATA power management states: Active, Partial, and Slumber.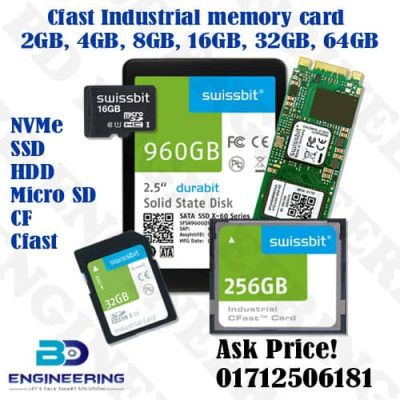 The utilization of the SATA interface on
CFast cards
sanctions for a prodigious amelioration over more gradual parallel data transfer methods by offering a bandwidth up to 300 MB/s. For engineers and designers CFast offers the minuscule size, flexibility, and features of a CF card while providing the simplicity and haste of a SATA communication interface.
NVMe / SSD / HDD For Industrial:
The most of Industrial Embeded PC System uges to NVMe/SSD/HDD and M.2 Memory systems. F-240 Series
SATA II, UDMA6, TRIM, low power
Compact Flash (CF)