The CPC2800 Lenze cabinet PC for Zimmer printing machine parts price in bd. The Lenze L-force CPC 2800 EP8GAC10000095300XX manufacture for machine programming and control system.
It's going online via system bus (CAN communication on board):
As an alternative to the diagnostic adapter, you can use the integrated system bus interface (CAN on board, terminal X1) of the controller for communication.
Lenze IPC meaning is
Industrial PC
& CPC meaning is
Cabinet PC
is control cabinet PC with decentralized display/operating unit (MP, Thin Client) CS Command Station stand−alone operator station EL Embedded Line PC for installation in control cabinets, machine paneling or other mounting cutouts MP Monitor panel for external display.  PLC Programmable Logic Controller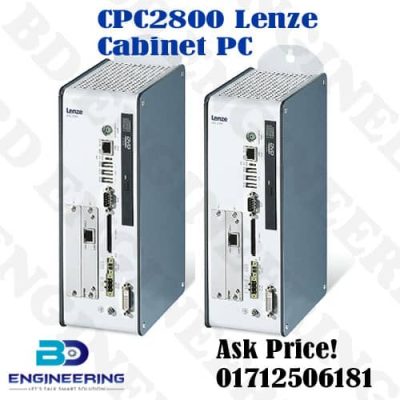 Decentralized solutions:
The decentralized solutions comprise separate units is the Industrial PC of the "Cabinet PC (CPC)" series, which is preferably placed in a forfended manner in the control cabinet, and the operating unit on site (monitor panel MP or CS−DVI). This solution has advantages with regard to cabling, operating conditions, and accessibility
Lenze IPC & CPC Series Line:
Panel PC EL 1850 / EL 1850s / EL 2850 / EL 5850
Thin Client EL 1850 TC / EL 1850s TC / EL 2850 TC / EL 5850 TC
Monitor Panel MP 1050 DVI / MP 1050s DVI / MP 2050 DVI / MP 5050 DVI
EL 1850 (TC): VGA touchscreen 26.4 cm (10.4″)
EL 1750s (TC): SVGA touchscreen 26.4 cm (10.4″)
EL 2850 (TC): SVGA touchscreen 30.5 cm (12.1″)
EL 5850 (TC): XGA touchscreen 38.1 cm (15″)
MP 1050 DVI: VGA touchscreen 26.4 cm (10.4″)
MP 1050s DVI: SVGA touchscreen 26.4 cm (10.4″)
MP 2050 DVI: SVGA touchscreen 30.5 cm (12.1″)
MP 5050 DVI: XGA touchscreen 38.1 cm (15″)
12 freely assignable function Keypad & control keys