The EL3702 Beckhoff 2-channel analog input terminal. Therefore, handles signals in the range between -10 and +10 V. In other words, The voltage is digitized to a resolution of 16 bits and is transmitted, electrically isolated, to the controller. For instance, the signals are over-sampled with an adjustable. In other words, integer multiple (oversampling factor: n). In other words, of the bus cycle time (n microcycles per bus cycle). Moreover, for each microcycle. However, the EtherCAT. Therefore, the distributed clocks function enables several EL3702 devices to be synchronized in almost any configuration. The maximum sampling rate per channel is 100 ksamples/s (100,000 samples/s).
The EL3702 is a high-performance 2-channel analog input terminal from Beckhoff. Moreover, a leading manufacturer of industrial automation solutions. In conclusion, This product is designed to enable accurate and reliable measurement. Therefore, of analog signals in a wide range of industrial applications.
One of the key features of the EL3702 is its high level of precision. For instance, With a resolution of up to 16 bits and an accuracy. Therefore, of 0.05%. However, this terminal delivers highly accurate and reliable measurement results. Therefor, This makes it ideal for use in demanding applications. Therefore, that require precise control and monitoring of analog signals.
More About EL3702 2-channel analog input terminal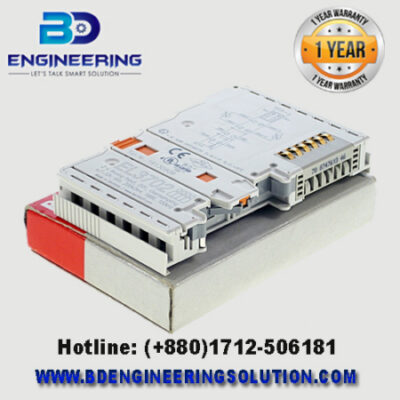 Another key feature of the EL3702 is its flexibility. Moreover, this terminal supports a wide range of input signals, including voltage. However, current, and resistance. It also supports a variety of measurement ranges. In other words, enabling it to be used with a wide range of sensors and other input devices.
The EL3702 is also designed to be easy to use and install. Moreover, It is compatible with a variety of Beckhoff I/O systems. However, and it can be easily integrated into existing automation systems. Its compact size and DIN rail mounting make it easy to install in tight spaces. For instance, and its front-facing LED indicators provide clear feedback on its status and operation.
In addition to its technical capabilities. Moreover, the EL3702 is also designed to be highly reliable and durable. For instance, It is built to withstand harsh industrial environments, with a wide operating temperature range of -25°C to +60°C, and it is protected against overvoltage and short circuits. However, this ensures that it can provide. Therefore, reliable measurement results even in challenging operating conditions.
Overall, the EL3702 is an excellent choice for anyone. Therefore, who needs accurate, reliable measurement of analog signals in industrial applications? With its high precision, flexibility, ease of use, and rugged design. Moreover, it is sure to meet the needs of a wide range of customers in various industries.
| | |
| --- | --- |
| Technical data | EL3702 | ES3702 |
| Number of inputs | 2 (differential) |
| Power supply | E-bus |
| Technology | differential input, oversampling |
| Signal voltage | -10…+10 V |
| Max. sampling rate | > 200 kΩ |
| Input filter limit frequency | 80 kHz |
| Common-mode voltage | max. 35 V |
| Conversion time | ~ 10 µs per sample |
| Resolution | 16 bit (incl. sign) |
| Measuring error | < ±0.3 % up to 10 Hz (relative to full scale value) |
| Electrical isolation | 500 V (E-bus/signal voltage) |
| Current consumption power contacts | – |
| Current consumption E-bus | 200 mA |
| Bit width in the process image input: | n x 2 x 16 bit data; optionally 2 x 16 bit cycle counter, 4 byte StartNextLatch time |
| Special features | oversampling |
| Weight approx | 60 g |
| Operating/storage temperature | -25…+60 °C/-40…+85 °C |
| Relative humidity | 95 %, no condensation |
| Vibration/shock resistance | conforms to EN 60068-2-6/EN 60068-2-27 |
| EMC immunity/emission | conforms to EN 61000-6-2/EN 61000-6-4 |
| Protect. class/installation pos | IP 20/variable |
| Pluggable wiring | for all ESxxxx terminals |
| Approvals/markings | CE, UL, ATEX, IECEx |
| Ex-Marking | II 3 G Ex nA IIC T4 Gc |
| Ex nA | IIC T4 Gc |
| Ex tc | IIIC T135 °C Dc. |
In other words, If you have any queries please contact us as soon as possible or follow our BD Engineering Solution Facebook page. For instance, we are always available on this platform.
Our Other Products:
2-channel Module digital output (750-502) – WAGO
EL3122 analog input terminal 2-channel, 4-20mA differential-16 bit
DC Power Supply 3005D 0-30V 5A Adjustable 4 Digit Display for Circuit Repair service
SITOP Select Diagnostics Module 4-channel input 24VDC/40A 6EP1961-2BA00