Light Curtain Sensor photoelectric beams SEG4012N-JOH-S The Light Curtain sensors are specialized photoelectric devices that is utilize two or more photoelectric beams. These sensors are use through-beams a separate sending and receiving unit or Reflectors a sending unit and a reflector. These units are suitable for the detection of larger areas where the detection of objects ranging from the retrieval of parts in a pick-bin to a person entering the area of a robot is non-specific and a wide area must be covered. Specialized Light curtains are available for Parts Counting, Human and Machine Safety Applications, and multi-plane object detection (J-Series).
Light Curtain Sensor photoelectric beams SEG4012N-JOH-S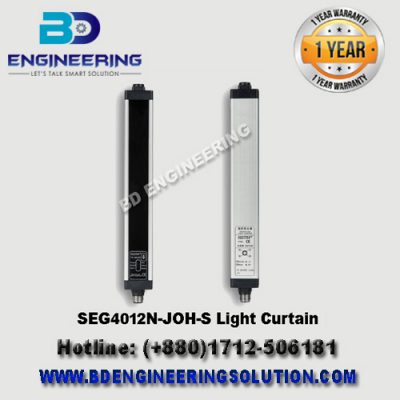 The SEG4012N-JOH-S Light Curtain Sensor is a type of photoelectric beam sensor use for detecting objects in industrial and commercial applications. This sensor is design to mount vertically or horizontally and emits a series of infrar beams that are receive by a corresponding set of receivers on the opposite side of the sensor. Moreover, When an object passes through the infrared beams. Therefore, it interrupts the beams and triggers an output signal to the connected controller or PLC.
If you have any query please contact us as soon as possible or follow our BD Engineering Solution Facebook page. We are the best industrial automation spare parts supplier in Bangladesh. We also provide HMI Unlocking service also.
Our Other Product:
EK1100 EtherCAT Bus Coupler Module
Q Series Mitsubishi melsec plc power Supply
Q68DAVN | Mitsubishi Digital-Analog
FX2N 4DA Mitsubishi Module Digital
SIEMENS DI D08 Module 6ES7143-3BH10-0XA0