Fuji GYG152C5-RG2 RYH152F5-VV2 bd price. Therefore, achieve a smooth speed operation standard with a high and good quality resolution encoder of 131072 pulses. Similarly, max. suppression of mechanical vibration is the front end of the robot arm. So, it solves all kinds of problems such as vibration. However, the vibration control is very low and the inflexibility of mechanical vibration. Nevertheless, it can be reduced to achieve high mechanical beat operation. So, pc controllers with integrated management parameters and standards, and 2 communication interfaces are used in this communication. But, the host controller and servo motors are also used it. Above all, Integrated management of the host controller can serve as amplifier parameters.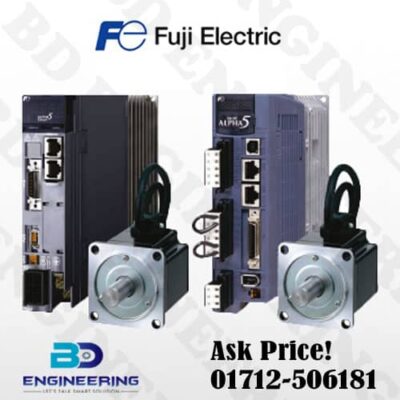 Fuji Servo GYG152C5-RG2 RYH152F5-VV2 
| | |
| --- | --- |
| Brand Name | |
| Part No. | |
| Type. | Motors |
| Designation | Servo Motor Drive |
| Voltage | 200 V |
| Rated speed | 2000r  per min |
| Oil seal type. | with oil seal |
| Encoder | 20bit INC |
| Brake | W/o |
| Rated output | 1.5k W |
| Output Power | 0.85K W |
| Input Phase | 3 |
| Power of Product | 1.0 kW |
| Encoder | 20 Bit |
| Rated voltage | 24V DC |
| Attraction time | 120 |
| Release time | 30 |
| Power consumption | 12 at 20°C |
Fuji GYG152C5-RG2 RYH152F5-VV2
Fuji GYG152C5-RG2 RYH152F5-VV2 bd price. A wide range of applications with the new function and optimal tuning can be realized even for low and inflexibility devices such as:
Super Stability: it is a smooth and stable operation. But, can change due to wear or variation among different types of devices.
Smart Operation: new handy, portable, and good servo operator which makes the operation much smarter than others.
Long-life design: The life cycle of a product is long.
Battery replacement: Therefore, the BS backup battery can be mounted on the front face. But, a servo amplifier is used for easy replacement.
Regulatory compliance: local compatibility. But, the standard model complies with different types of CE marking, UL or cUL, and the oHS Directive.
Our more products:
Delta AC Servo Motor and Driver
Delta AC Servo Driver and motor
Delta Servo Motors & Driver ECMA