Panasonic MHMD082P1U price in bd?. In conclusion, Panasonic MHMD082P1U, 0.75KW 200 to 230V AC. However, BD Engineering solution provides the best Panasonic Servo Motor all over the country. Input power supply for Driver is 10 W to 7.5 kW, Voltage DC 24 V or 48 V AC 100 V/200 V/400 V, Similarly, 20 bit incremental and 17 bit Absolute or Incremental encoder. Moreover, The frequency response is 2.3 kHz. Panasonic MHMD082P1U Servo Motor best seller in BD.
Therefore, MHMD082P1U Panasonic Servo Motor Minas A4 series, a wide output range starting from 50W to 5kW. In other words, it gives very high speed and good functionality to AC servo drivers and motors. For instance, It creates the adoption of a new powerful CPU. However, the A4 series provides a velocity response frequency of 1kHz. Therefore, As well as it allows for the development of a high-speed machine. However, The standard lineup covers full closed control. Similarly, auto gain tuning functions. Moreover, And also the motors with 2500P/r incremental encoder. For instance, the Panasonic A4 series also improves user friendliness by giving a console that provides us to monitor the rotational speed display. Above all, make the setup parameters. A4 series can also support different types of applications.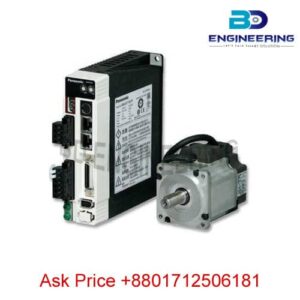 Panasonic MHMD082P1U Servo Motor Specification
| | |
| --- | --- |
| Brand Name | Panasonic |
| Manufacturer | Panasonic Industrial Automation Sales |
| Part Number | MHMD082P1U |
| Product type | SERVOMOTOR |
| Series | MINAS A4 |
| Details | High inertia, Lead wire type, IP65 |
| Panasonic Servo Motor Type | AC Motor |
| Voltage – Rated | 200VAC |
| Rated output | 750 W |
| Rated current | 4 |
| RPM | 3000 |
| Torque – Rated | 339.9 / 2400 |
| Panasonic Power – Rated | 750W |
| Encoder Type | Incremental |
| Termination Style | Wire Leads |
| Operating Temperature | 0°C to 40°C |
MHMD082P1U Price in Bangladesh
In conclusion, every time our consumers wanna know about Panasonic MHMD082P1U price in bd. However, we tell our consumers please contact our live support and get your best price. Moreover, we are the biggest industrial automation spare parts importer in Bangladesh. above all, so if you need any help please let us know. In other words, our team is ready to help you.
Most importantly, For more details please visit our official Bd engineering solution Facebook page. Similarly, we are available on other social media platform also