In conclusion, HMI Ready Ethernet RJ45 cable price in BD? RJ45 cable used to communicate with other devices like plc to HMI, HMI to pc, plc to pc. Actually, this rj45 cable programmer used program plc and HMI. In other words, we are the biggest plc, and HMI importer in Bangladesh if you wanna any industrial automation spare parts please contact us. We are trying to arrange all kinds of plc or HMI accessories for you.
Why RJ45 cables are important for the network?
These are essentially connectors that are valuable for moving information and data, but at the same time are helpful for permitting at least two machines or gadgets to speak with one another at a quick pace. The RJ45 is fundamentally a connector and takes into consideration the organization between one another to remain solid.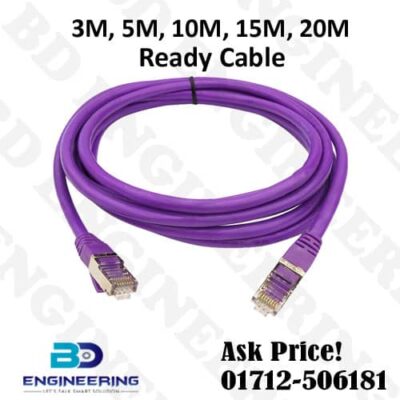 More about HMI Ready Ethernet RJ45 cable price in BD
The "RJ" in RJ45 means "enlisted jack," since it is a normalized organizing connection point. The "45" just alludes to the quantity of the point of interaction standard. Each RJ45 connector has eight pins, and that implies an RJ45 link contains eight separate wires.
How to work RJ45 Cable?
RJ45 plugs feature eight pins to which the wire strands of a cable interface electrically. Each plug has eight locations spaced about 1 mm apart into which individual wires are inserted using special cable crimping tools. The industry calls this type of connector 8P8C, shorthand for eight positions, eight contacts.
What is the importance of network cable?
Network links are important to associate and move information and other data between PCs, switches, and capacity frameworks. Network links resemble veins in the human body. Moreover, They are transporters that permit information to move to start with one spot and then onto the next. Network links are the foundation of your business. For more information please follow our BD Engineering Solution Facebook Page
Our Other Product:
6GK1901-1BB20-2AB0 Compatible RJ45 Plug Connector 10/100MBIT/S
6GK1901-1BB10-2AA0 siemens rj45 connector
Mitsubishi PLC Cable USB-SC09-FX programming
FP-C16T-F Panasonic plc Original Product
X202-2IRT SCALANCE SIEMENS 6GK5202-2BB00-2BA3