SIMATIC IPC427D INDUSTRIAL PANEL PC 6AG4140-6BC25-0KA0 FOR BOBST PRINTING MACHINE
BOBST Gravure COLOR printing:
BOBST has been involved in the design and manufacture is color printing system and controller and automation by siemens industrial Instrument.
Industrial PC configration:
Up to Core i7, i5, i3 and fan-free
DDR3 with up to 8 GB
Mircobox embeded windows panel PC
Solid-state drive (SSD, optional), SATA hard disk or up to two CFast cards with 16 GB
Flexible recollection concepts (e.g. 2 mass storage units possible)
2 x LAN 10/100/1000 Mbps connections; teaming-capable
Onboard PROFIBUS or PROFINET interface (optional)
4 x high-speed USB 3.0 ports; 2 serial interfaces (2nd interface is optional)
Flexible installation with mounting options (DIN rail, wall, front upright mounting)
Simple expansion capability (up to 2 PCIe slots)
On/off switch
512 KB NVRAM can be inscribed by software controller
Industrial Embeded Windows Computer
Supported windows embeded XP, embeded 7 operation system
As you can install machine operation software system such as machine automation.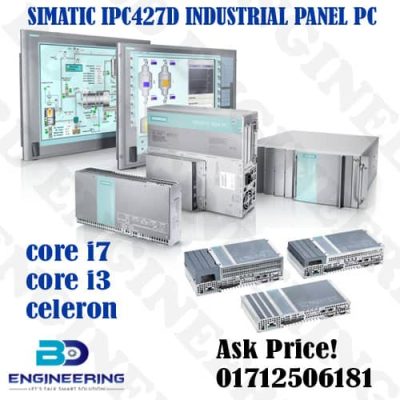 The BOBST 10-Color Printing machine for Siemens SIMATIC Model: IPC427C PANEL PC BOX, 500GB HDD, With Program and MEMORY 2 GBYTE DDR3 1066, Brand: Siemens, Made in Germany