The Moxa EDS-208 is a high-performance industrial Ethernet switch design. For use in mission-critical applications that require reliable and efficient network connectivity. This rugg and durable switch is built to withstand. Harsh environmental conditions and provides superior performance. Making it an ideal choice for use in industries such as transportation. Oil and gas, and factory automation.
One of the key features of the Moxa EDS-208 is its robust construction. The switch is house in a rugged metal casing that is design to withstand extreme temperatures. Humidity, and vibration. This makes it suitable for use in a wide range of industrial environments. Including outdoor installations and hazardous locations.
Moxa EDS-208 Ethernet switches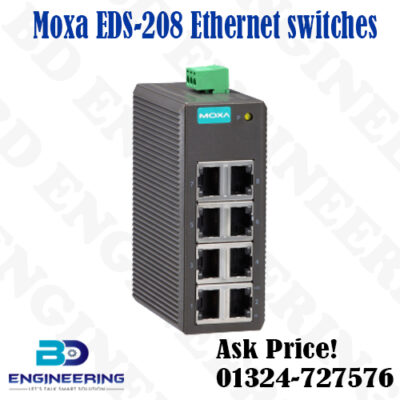 In addition to its rugged construction, the Moxa EDS-208 also offers a range of advanced features that make it a highly efficient and reliable Ethernet switch. These include advanced management and diagnostic tools, such as SNMP and RMON, which enable users to monitor and control network traffic in real-time. The switch also supports Quality of Service (QoS) and Virtual LAN (VLAN) technologies, which help to ensure that network traffic is prioritiz and routed efficiently.
The Moxa EDS-208 is design to be easy to install and configure, with a user-friendly web-base interface that allows users to configure and manage the switch remotely. The switch also supports a range of industrial protocols, including Modbus/TCP and EtherNet/IP, making it compatible with a wide range of industrial devices and systems.
In terms of performance, the Moxa EDS-208 is a high-speed Ethernet switch that supports data transfer rates of up to 1000 Mbps. This ensures that data is transferr quickly and efficiently, even in high-bandwidth applications.
Overall, the Moxa EDS-208 is an excellent choice for industrial users who require a reliable and efficient Ethernet switch that can withstand harsh environmental conditions. Its advanced features, rugged construction, and high-performance capabilities make it a valuable asset in any industrial setting. For more information please follow our BD Engineering Solution facebook page
Our Other Products:
BECKHOFF CP2607-0000 Human Machine Interface (HMI)
Moxa EDS-405A 5 port Ethernet switch for offer advanced SCADA software
Setex controller with PLC for dryer machine of washing & dyeing in bd
MOXA EDS-308 | 8 Port Ethernet Switch price in Bangladesh
Moxa IMC101MSTT Ethernet to Fiber Media Converter price in BD