In conclusion, Bd Engineering solution now provides Pilz Pnoz X3 774318 in bd AC/Dc Safety Relay – Dual Channel With 3 Safety Contacts 1 Auxiliary Contact Made In Germany. However, if you wanna buy our product please contact us as soon as possible. In other words, we work with many kinds of brands like Mitsubishi, Omron, Schneider, Delta, Beckoff, LS, B&R, ABB, Siemens, and Allen Bradley. For instance, we are the best Industrial Automation spare parts importer in Bangladesh. Moreover, If you need any kinds of unique industrial parts please contact us. For instance, we are trying to arrange it for you. However, If you wanna physically visit our main branch please follow this address: Uttara, Sector: 03, Road: 07, House No: 32/A.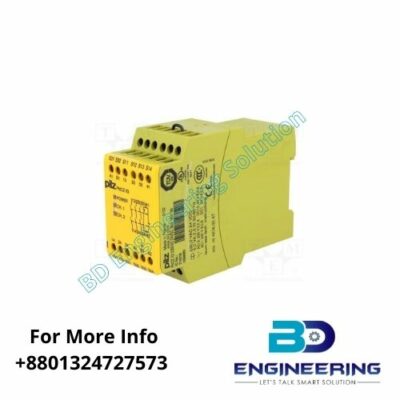 Something More  About Pilz 774318
In other words, the Pilz Pnoz x3 774318 in bd. This product range of safety relays introduces a safety barrier to your circuit. For instance, where primary applications are usually located in potentially hazardous environments. Therefore, where you need rapid power outages. Particularly effective in automated environments with high leg traffic. For instance, such as factories and warehouses.
In conclusion, features and benefits led indicator statuses to support changing the position of the channel between 1 or 2 signals and to monitor. However, the current supply voltage in the relay. In other words, semiconductor output signal: change the status channel 1/2 3 security contacts and 1 support contact several connection outputs. However, status indicators of your security function are automatically checked in each on-off cycle of relay opening and closing. Therefore, din rail mount as a standard security feature is unnecessary.  After that, Pilz Pnoz x3 774316 with built-in circuit self-monitoring reliable x3 functionality means your security function is effective. Similarly, even in case of component failure, the transformer is short circuit proof and an electronic fuse is used to supply a dc. For more information please download Pilz Pnoz X3 Pdf
| | |
| --- | --- |
| Attribute | Value |
| Supply Voltage | 24 V dc, 230V ac |
| Number of Channels | 2 |
| Safety Contacts | 3 |
| Function | Emergency Stop |
| Auxiliary Contacts | 1 |
| Reset Method | Automatic, Monitored |
| Range | PANOZ X |
| Safety Category ISO 13849-1 | 4 |
| PL ISO 13849-1 | e |
| SIL IEC 61508 | 3 |
| Terminal Type | Screw |
| Depth | 121mm |
| Series | PANOZ X3 |
| Width | 45mm |
| Length | 87mm |
| Performance Level | e |
Now Talk About Pnoz X3 774318 Price in Bangladesh
Pilz Pnoz x3 774318 Price In Bangladesh if you wanna buy this product please contact us we will provide you with this product as soon as possible so please contact us as soon as possible. We have many products like this I/O Module S7-1500 series, Pilz Pnoz x3 I/O Module S7-1200 series, I/O Module S7-300 series, and I/O Module S7-2000 series, we also have Mitsubishi Q62DAN, FX2N-4DA, FX3U-32DP, FX5-16ER-ES. For information, you can contact us on Facebook we are 24/7 available on this platform.