Schneider module BMXDRA1605 X80 bd price. Schneider Electric Discrete output module BMXDRA1605 X80,16 outputs relay, 24V DC. The BMXDRA1605 output module X80, 16 outputs relay, 24VDC or 24 to 240VAC. Therefore, the output module is an important part of the Modicon X80 modules which has 16 non-protected relay outputs and 24V DC or 24V to 240V AC. And it is connected with a 20-way movable terminal block. Moreover, it involves a single slot on the rack. Meanwhile, it has a case that gives IP 20 protection for the electronics.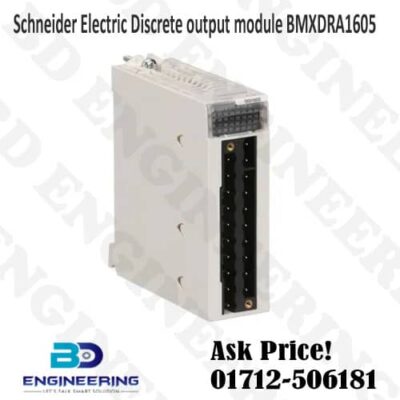 Schneider module BMXDRA1605 X80
Brand Name
Schneider
Part No.
Product range
Modicon X80
Component type
Discrete output no.

16 conforming to EN or IEC 61131-2

Discrete output type
Relay
Discrete output voltage min.
Discrete output voltage max.
Air thermal current
2 A
Insulation resistance
Power dissipation
3 W
Output Response time

< 8 ms activation
< 10 ms deactivation

Current consumption
MTBF reliability
1357810 H
Overload protection of output
Over-voltage protection

discharge diode on each output DC
RC circuit on each output AC
ZnO surge limiter on each output AC

Short-circuit protection
Switching current
1 mA 5 V DC min.
Weight
0.15 kg
IP degree of protection
IP20
Dielectric strength

2000 V AC at 50 or 60 Hz in 1 min

Vibration resistance
3 gn
Shock resistance
30 gn
Ambient air temp for storage
-40 to 85 °C
ambient air temp for operation
0 to 60 °C
Humidity
Operating altitude

0 to 2000 m and 2000 to 5000 m with a derating factor
More About Schneider module

Schneider Electric give dedicated to supplying best products with the best environmental performance. Modicon X80 range is one important part of Contribute Plant, an open, flexible, reliable, sustainable, safe, and secure architecture. Schneider module BMXDRA1605 X80 bd price.
Our other product
Siemens SIMATIC 6ES7 222-1BH32-0XB0
ABB CD522 1SAP260300R0001 ENCODER