Scheneider Plc bmxrms008mp Memory card for programming.Therefore, the Schneider Plc Memory card for programming is available in Bangladesh. The Memory CARD Industrial Grade Schneider 512MB | 1GB | 2GB | 4GB | 8GB. It works with PLC Programming, HMI Memory Programming, IPC Programming, Micro Memory Card MMC, etc.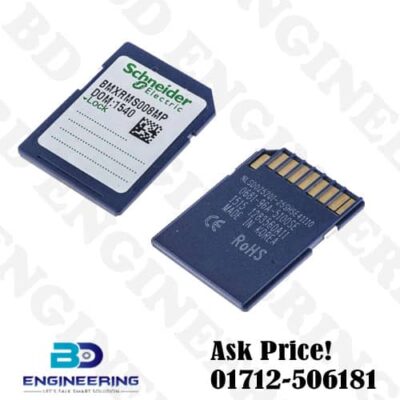 Furthermore, Schneider Electric BMXRMS008MP Modicon M340 helps the automation platform SD flash memory card whose memory capacity is 8 Mb for the processor. In addition, it is a part of the Modicon M340 range, which gives Programmable Automation Controllers (PAC). This SD flash recollection card is adjacent to the M340 processor.
The card is suitable with Modicon M340  BMXP342020, BMXP342010,  BMXP342000, BMXP341000, BMXP342030 process module, and BMXPRA0100 peripheral remote Input or Output adaptor. The card is embedded in the front slot and supplied with a protective door. It is also backed up by reproduction if the Programmable Logic Controller (PLC) is turned off.
Schneider Plc bmxrms008mp
| | |
| --- | --- |
| Brand Name | Schneider |
| Part No. | |
| Product type | Plc bmxrms008mp Memory card |
| suitable with | Modicon M340 BMXP342020, BMXP342010, BMXP342000, BMXP341000, BMXP342030 process module, and BMXPRA0100 |
More About Schneider Plc bmxrms008mp
Moreover, The memory capacity of data storage is 8MB.Schneider Plc bmxrms008mp for programming is high quality and based on the new innovative technology. It helps a transparent ready class B10 web server and is compatible with process industries, renewable energies, water, cement, manufacturing, infrastructures, and machines applications or systems. The shape of Schneider Plc bmxrms008mp for programming is compact and offers a little box compatibility and integrated methods. Above all, it supplies plug-and-work solutions to you with both Schneider Electric and third-party devices. Schneider Plc bmxrms008mp price in bd.