Industrial Grade Swissbit 512MB price in bd. The Compact Flash (CF) Memory CARD Industrial Grade Swissbit 512MB | 1GB | 2GB | 4GB | 8GB. Moreover, Specially support PLC Programming, HMI Memory Programming, IPC Programming, Micro Memory Card MMC, etc.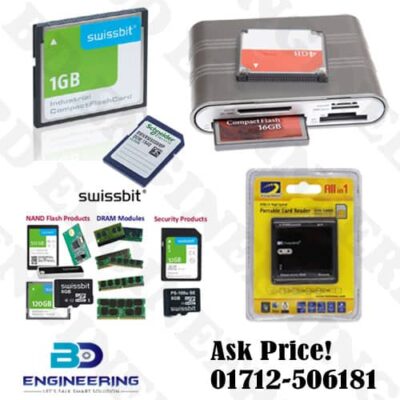 Industrial Grade Swissbit 512MB
Currently, CompactFlash (CF) cards are still a very popular Flash-based storage solution. Many industrial sectors use it. Meanwhile, the CompactFlash card form factor and connector are very high-quality. The CF Cards depend on quality, reliability, robustness, and also longevity. Then, we can select good and high-quality components. And execute all design rules for fitting the stringent requirements of our clients. Therefore, hardware and firmware were tested and checked by our experienced technical team to prove many challenging issues of our customer applications.
On the other hand, it is also made to get a solution for a broad range of concerns. According to compatibility, booting and Power Fail Safety to long-term supply. It can control BOM and outstand Flash protocol to handle techniques to confirm the highest possible data principle.
Next, the CF Card provides better backward compatibility with the legacy method. Further, this also gives low densities from 32 MB to 256 MB which uses highly compatible and reliable SLC Flash.
Recently, the CF Card product families are C-500 and C-56 which are using page-based Flash management. Thus, it gives the highest write IOPS rate as well as outstanding ability.
More About Industrial Grade Swissbit 
This SLC (Single Layer Cell) Compact Flash (CF) card is available in different types of capacities from 64MB to16GB max. So, the user may confirm how to select the right capacity to get their desiderata. Then, a constrained lifetime warranty and legendary Wintech reliability back all cards. Industrial Grade Swissbit 512MB price in bd.
Our Other Product
LS HMI Touch Panel LSS-XP70TTA-01 Version
Universal IC Programmer for PLC Unlock Service