The Schneider TM3AI8 module is a high-quality analog input module that is design. To work with the Schneider Modicon M221 and M241 programmable logic controllers (PLCs). It is part of the Schneider Modicon TM3 series of I/O modules. Which are renown for their robust construction and reliable performance.
With the TM3AI8 module, you can easily and efficiently measure up to eight analog signals simultaneously. Making it ideal for a wide range of industrial applications. The module can accept inputs from a variety of sensors, including thermocouples, RTDs, and voltage and current signals.
More About Schneider TM3AI8 Module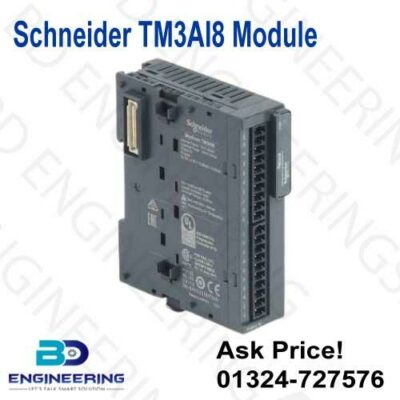 The TM3AI8 module is incredibly easy to install and set up, thanks to its plug-and-play design and intuitive software interface. It features a compact form factor that makes it easy to fit into tight spaces, and it is design to operate in a wide range of temperatures, making it suitable for use in harsh environments.
One of the standout features of the TM3AI8 module is its high degree of accuracy. It can measure signals with a resolution of up to 16 bits, ensuring that you get precise and reliable readings every time. Additionally, the module features built-in diagnostics and alarms that can help you identify any issues with your system quickly and easily.
The TM3AI8 module is also incredibly versatile. It can be use in a wide range of applications, from temperature and pressure monitoring to machine control and automation. With its high degree of flexibility and scalability, it is an ideal solution for both small-scale and large-scale projects.
Whether you're a season engineer or just getting started with industrial automation, the Schneider TM3AI8 module is an excellent choice for your next project. With its reliable performance, ease of use, and advanc features, it is sure to help you get the job done quickly and efficiently. So why wait? Invest in the TM3AI8 module today and start enjoying the benefits of advanced industrial automation. For more information please contact us or follow our BD Engineering Solution Facebook page.
Our Other Products:
OMRON Z3R-FC12 24VDC supplied from the End Unit
Schneider Compact PLC Controller TWDLCAE40DRF
 BMXP342020 Schneider Electric Modicon M340 Processor analog IO modbus ethernet
Schneider VFD-All Inverter Series & Servo Drive_Motor
Schneider PLC Modicon TM221C16T with Analog Module IO TM3TI8T