In conclusion, BD Engineering Solution now provides Schneider Twido TWDLCAE40DRF for price in bd contact us. However, we work with many brands like Mitsubishi, LS, Delta, Omron, and Schneider we are the top industrial spare parts. Moreover, we are the biggest importer in Bangladesh. In other words, if you need any unique product for your automation industry please let us know we arrange it for you. For instance, we are always available on Facebook & whats app: +8801324-727573
HMI
PLC
VFD
SENSOR
POWER SUPPLY
MODULE
SERVO MOTOR & DRIVE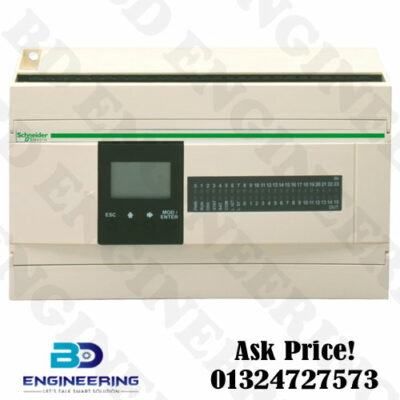 Schneider PLC Twido TWDLCAE40DRF TWDLCAA40DRF Specification
Product range
Twido
Material type
Compact base controller
The idea
Transparent Ready
discrete I/O number
40
discrete input number
24
discrete input voltage
24 V
discrete input voltage type
DC
discrete output number
14 for relay
2 for transistor
[Our] rated supply voltage
100…240 V (AC)
Maximum number of I / O expansion modules
7
Use slots
Memory cartridge
Isolated input argument
Sink or source
Input voltage limit
20.4 to 26.4 V
Insulation resistance between channels
None
Minimum load
0.1 mA
Communication resistance
30000 µOhm
Input / Output connection
Non-removable screw terminal block
Max input / output number

152 removable screw terminal block with Input/Output expansion module
208 spring terminal block with Input/Output expansion module
264 HE-10 connector with Input/Output expansion module

Free slots
1
More About Twido 
However, the Schneider twido TWDLCAE40DRF price in bd  programmable logic controller reads input, controls the output, and analyzes based on program logic. For instance, create a twido plc program twido programming with a series of instructions. Therefore, written in one of the following languages. However, the following languages use to create twido machine programs. Above all, the instruction list program of a series of logic expressions. Most importantly, written as a series of boolean. In other words, The ladder figure is a graphical representation of logical expressions. In addition, the graph set consists of a series of language steps and adaptations. For instance, twido graced understands list commands. In other words, grace does not understand the graphical representation of objects. Moreover, Use these operations to create and edit the twido program. In conclusion, The programming language can be run from a personal computer (pc).
List of ladder diagram instructions / reversible function list of instructions. Moreover, to convert the program to ladder diagram language and vice versa.
The Twido range of compact programmable controllers provides an all-in-one solution
Eight compact base controllers. Therefore, 4 expandable base controllers with expansion i / o modules are available. However, differing in their processing capacity and the number of their c 24 v inputs and relays and transistor outputs (10, 16, 24) and 40 i /. o). Most importantly, in making other diagnostics, if the logic controller determines that the configuration contains a defined i / o module that is not physically present. Therefore, on the i / o bus, an error is detected and the i / o bus does not start. With the optional module feature, the logic controller ignores missing i / o extension modules that you have identified as optional,
In other words, allowing the logic controller to start the i / o extension bus. Moreover, although the optional expansion modules are not physically connected to the logic controller. However, the i / o expansion bus starts during the logic controller configuration (following a power cycle, application download, or initialization command). Moreover, Open to numerous communication networks, and 3 types of flexible bases (compact, and modular). In other words, a wide range of i / os, twido and related twido suite software provide simple and sophisticated solutions to all your problems.