The SEMIX 403GB128D is a highly advance and efficient power module. That is designe to meet the high demands of modern power electronics applications. This module combines the latest in semiconductor technology. With a robust and compact design, making it ideal. For use in a wide range of industrial and commercial applications.
At the heart of the SEMIX403GB128D is a highly efficient and reliable IGBT. Insulated Gate Bipolar Transistor module. This module features advanced technology that delivers superior performance and reliability, making it ideal for use in high-power applications. Such as industrial drives, renewable energy systems, and electric vehicles.
SEMIX 403GB128D and SEMIX 503GB126HD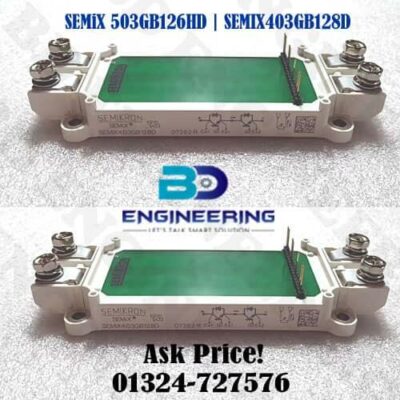 The SEMIX403GB128D also features a compact and robust design that allows. For easy installation and integration into a wide range of systems. Its compact size and lightweight construction make it ideal for use in applications where space is at a premium, while its robust construction ensures reliable performance even in harsh environments.
This power module also features a range of advanced features that make it highly versatile and adaptable to a wide range of applications. It includes built-in temperature and overcurrent protection, ensuring that the module can operate safely and reliably even in challenging environments.
The SEMIX403GB128D is also designed for easy and flexible control, with a range of input and output options that allow for precise and accurate control of the module's performance. It also includes advanced features such as soft switching and active clamping, which help to reduce power losses and improve efficiency.
Overall, the SEMIX403GB128D is a highly advanced and efficient power module that is designed to meet the high demands of modern power electronics applications. With its advanced technology, robust design, and versatile features, this module is the perfect choice for a wide range of industrial and commercial applications. For more information please contact us or follow our BD Engineering Solution
Our Other Products:
SICK KT5W-2P1116 | KT5 CONTRAST I-Mark Color Detect Sensor for Packaging machine
IGBT Module 7MBR25SA120-60 1200V/25A Inverter-VFD-Ac Servo Drive in Dhaka-BD
Mitsubishi IGBT Module CM400HA-24H
SKKD 162/16 Diode Module SEMIPACK1.6 kV 195 A 1.5V Dual Series