The Allen Bradley 4-Channel 1762-OF4 is a powerful analog output module designed for use. In a wide range of industrial automation applications. With its advanced features and robust construction. It is the perfect choice for demanding control tasks that require high reliability and precision.
At the heart of the 1762-OF4 is a high-performance processor. That delivers fast and accurate control over its four analog output channels. With its 12-bit resolution and configurable output ranges. This module can deliver precise control over a wide range of analog signals, ensuring maximum accuracy and efficiency.
Allen Bradley 4-Channel 1762-OF4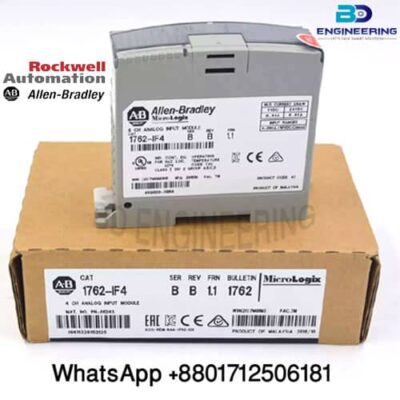 In other words, one of the standout features of the 1762-OF4 is its flexible and modular design, which allows it to be easily integrate into a wide range of automation systems. With a compact form factor and a variety of mounting options, it is easy to install the module in almost any location, making it ideal for use in space-constrained environments.
In addition to its powerful analog output capabilities, the 1762-OF4 also features advanced diagnostic and monitoring capabilities, including fault detection and a built-in watchdog timer. This ensures that the module is always operating at peak efficiency, and any faults or errors are quickly detected and addressed.
Overall, the Allen Bradley 4-Channel 1762-OF4 is an outstanding analog output module that offers unbeatable performance, flexibility, and reliability. Whether you are working in manufacturing, process control, or any other industry that requires advanced automation capabilities, this module is the ideal choice. So why wait? Contact us today to learn more about how the 1762-OF4 can help you take your automation systems to the next level! If you have any questions about this product please contact us as soon as possible. Or follow our BD Engineering Solution Facebook page.
Our Other Products:
6ES7314-6CF02-0AB0 CPU 314C-2DP COMPACT CPU WITH MPI 24DI/16DO 4AI 2AO 1 PT100
WAGO 750-559 4-channel analog output module generates standard 0-10VDC
EL1014 Beckhoff 4-channel digital input module in Bangladesh
EL3164 | 4-channel analog input terminal 0…10V single-ended 16 bit
SITOP Select Diagnostics Module 4-channel input 24VDC/40A 6EP1961-2BA00