Siemens S7-1500 6ES7 515-2AM00-0AB0 CPU 1515-2 PN. It is a Central Processing unit working with 500KB Memory. SIMATIC S7-1500 CPU1515-2 PN is available in Bangladesh. Moreover, siemens gives products and solutions with industrial security systems and functions. Therefore, it helps the best and secure operation of plants, solutions, machines, equipment, and networks. Because they are very important parts of an industrial security concept. Above all, Siemens products and solutions go through this development process continuously. Siemens 6ES7 515-2AM00-0AB0 price in bd.
The CPU or central processing unit works with Simatic s7-1500 CPU1515-2PN that has 500KB Memory and 3MB for data with 1-interface. Similarly, it has a 2 port switch Profinet IRT and 2-interface ethernet, also 30ns bit-performance which needs Simatic memory card.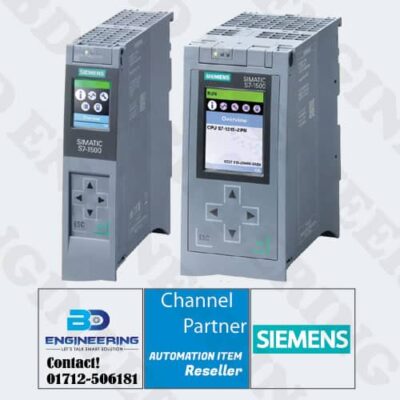 Siemens 6ES7 515-2AM00-0AB0
| | |
| --- | --- |
| Brand Name | Siemens |
| Part No | |
| Country of Origin | Germany |
| Product type | CPU 1515-2 PN |
| Hardware product type | FS02 |
| Screen diagonal size | 6.1 cm |
| Buttons no. | 6 |
| Mode selector no. | 1 |
| Power Supply voltage | 24 V DC |
| Min. Permitted range | 19.2 V DC |
| Max. Permitted range | 28.8 V DC |
| Reverse polarity protection any | Yes |
| Current consumption | 0.8 A |
| Inrush current | 2.4 A max. |
| Power consumption | 6.2 W |
| Power loss, typ. | 6.3 W |
| Integrated Work memory | 500 KB |
More About Siemens 6ES7 515-2AM00-0AB0
Furthermore, SIMATIC S7-1500 is a modular control system that works in a wide range of automation sectors. SIMATIC S7-1500 has a very simple modular and fanless design, easy implementation of distributed structures, and user-friendly operation. For this, it makes less economic cost and is a good solution for a variety of tasks and applications. Different CPUs with various levels of implementations and an inclusive range of modules with some suitable features are available. Above all, The modular design gives you to work only on the modules you required for your task. Because the controller can be set up with some extra modules at any time to enlarge its range of tasks. Siemens 6ES7 515-2AM00-0AB0 price in bd.
Our Other Product
SIMATIC S7-1500 6ES7511 CPU 1511-1PN SIEMENS PLC
SIEMENS Power Supply 6ES7313-5BF03-0AB0
KTP700 Basic PN HMI 6AV2 123-2GB03-0AX0