Siemens 6ES7512 1CK01 0AB0 price in bd? Siemens 6ES7512-1CK01-0AB0 Simatic S7-1500 compact CPU1512C-1PN with working memory 250kb. The simatic s7-1500 compact cpu1512c-1pn, central processing unit (CPU) with working memory 250 kb for program and 1 mb for data, 32 digital inputs, 32 digital outputs, 5 analog inputs, 2 analog outputs, 6 high speed counters, 4 high speed outputs for pto/pwm/frequency output 1. interface with profinet irt with 2 port switch, 48 ns bit-performance, incl. front connector push-in, simatic memory card necessary.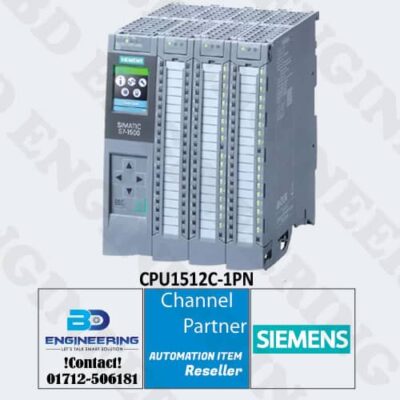 Siemens 1CK01 0AB0 Specification
General information
Product type designation

CPU 1512C-1 PN FS03
V2.9

HW functional status
Firmware version
Product function
● I&M data
● Isochronous mode
Yes; I&M0 to I&M3
Yes; With minimum OB 6x cycle of 625 µs (distributed)
Engineering with
● STEP 7 TIA Portal configurable/integrated from version
V17 (FW V2.9) / V15 (FW V2.5) or higher; with older TIA Portal versions configurable as 6ES7512-1CK00-0AB0
Configuration control
via dataset
Yes
Display
Screen diagonal [cm]
3.45 cm
Control elements
Number of keys

8
2

Mode buttons
Supply voltage
Rated value (DC)

24 V
19.2 V; 20.4 V DC, for supplying the digital inputs/outputs
28.8 V Yes

permissible range, lower limit (DC)
permissible range, upper limit (DC)
Reverse polarity protection
Mains buffering
● Mains/voltage failure stored energy time
● Repeat rate, min.
5 ms; Refers to the power supply on the CPU section
1/s
Input current
Current consumption (rated value)

0.8 A; Without load; 18.8 A: CPU + load 1 A; Without load; 19 A: CPU + load
1.9 A; Rated value
0.34 A²·s

Current consumption, max.
Inrush current, max.
I²t
Digital inputs
● from load voltage L+ (without load), max.
20 mA; per group
Digital outputs
● from load voltage L+, max.
30 mA; Per group, without load
output voltage / header
Rated value (DC)
24 V
Encoder supply
Number of outputs
2; One common 24 V encoder supply per 16 digital inputs
24 V encoder supply
More About Siemens 6ES7512 1CK01 0AB0 price in bd
This product has Number range 1 … 60 999; subdivided into: number range that can be used by the user: 1 … 59 999, and number range of DBs created via SFC 86: 60 000. 1 Mbyte; For DBs with absolute addressing, the max. size is 64 KB. For more information please contact us BD Engineering Solution Facebook page.
Our Other Product 
ANALOG INPUT SM 331 8 AI X RTD 6ES7 331 7PF01 0AB0 Siemens S7-300 PLC
Proximity Sensors Omron E2E2-X5C1 29 mm 12 to 24 VDC
Siemens S7-1200 PLC-module CPU1214C 6ES7 214-1AG40-0XB0
LOGO PLC OBA8_AM2_RTD Module 6ED1 055-1MD00-0BA1
Siemens 6AV6 640-0BA11-0AX0 OPERATOR PANEL, 73MICRO FOR Siemens S7-200