In conclusion, for SMC IS112 Pressure switch price in bd please contact us. Now BD Engineering Solution provides this Pressure Switch. We are the biggest and largest industrial automation spare parts supplier in Bangladesh. For instance, if you need any unique product please let us know we are trying to arrange it for you.
Question & Answer?
SMC IS112 Pressure Switch price in BD?
Ans: We always informed our consumers please contact our live support and get your best price thanks.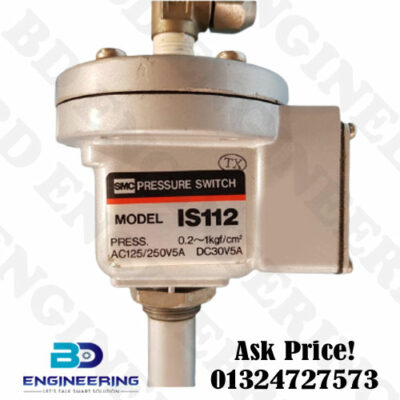 Something re About Smc Is112 Pressure Switch
Configured Specifications
Type
Pressure Switch
Fluid Type
Air
Rated Pressure (Max.)
100kPa
Sensor, Monitor Structure
Separate Type, Terminal Block Connection
Output Method
Switch
Pipe Port Type
Female Thread
Plumbing Thread Type
[Rc (R)] Rc
Plumbing Thread Nominal
[1/4] 1/4
Pressure Resistant(MPa)
0.2
Operating Temperature Range(°C)
-5~60
Number of Output Points
2
Mounting Holes
Presence
Display
No
Lamp
No
Applicable Fluid
Air
Output Specification
Terminal plate with cover
Wire outlet size
–
–
–
Our Other Products:
SMC Membrane Air Dryer 10-Idg20-03 B
Chiller Ahu Pressure Cut Off Switch
Danfoss Pressure Transmitter 0-100 Bar
Danfoss 060-117166 Pressure Cut Off Switch
How can you contact us? For any inquiry please follow our BD Engineering Solution Facebook page or whatsapp us: +8801324-727573. We work with many brand products Siemens, Mitsubishi, Omron, Delta, Danfoss, ABB, Allen Bradley, Beckhoff, Pilz, Schneider, Weinview, Proface, Wago, Koyo, Sick, Honeywell, Panasonic, Yaskawa, Phonix, Mack, LS, Lenz, B&R, we can arrange for you all brands industrial spare parts.