Weidmueller WAS1 CMA 1/5/10A price in BD AC DC Current Monitoring Relay Weidmueller WAS1 CMA 1/5/10A
Current observing transfers forestall issues due to overcurrent or inclination. On the off chance that an overcurrent or inclination happens inside an application, the ongoing checking hand-off will initiate, flagging a caution or switch off the progression of energy through the circuit.
Schneider Electric Amicability Control Transfers screen and recognize unusual working circumstances concerning flow, stage, voltage, recurrence, fluid level, temperature, speed and siphon control. This data permits clients to start the vital remedial activities before serious breakdowns happen. Settings can be designed carefully utilizing the Zelio NFC Application. Checking boundaries can be set exactly to the ideal worth and time deferral can be set to minutes, seconds or milliseconds.
Phoenix Contact EMD-BL reduced checking transfers are great for straightforward observing errands and are especially appropriate for use in the series creation of machines and frameworks, as well as in building establishment. They screen flows, voltages, stage grouping and temperature. The EMD checking transfers screen electrical and actual framework boundaries. They screen flows, voltages, stage successions, genuine powers, burdens and temperatures.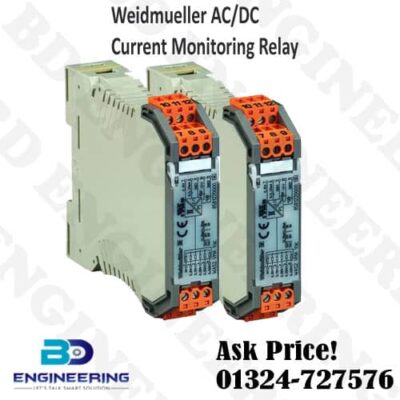 Weidmueller WAS1 CMA 1/5/10A price in bd & Specification
Depth
112.4 mm
Depth (inches)
4.425 inch
Width
22.5 mm
Width (inches)
0.886 inch
Length
72 mm
Length (inches)
2.835 inch
Net weight
100.7 g
Storage temperature
-20 °C…70 °C
Operating temperature
0 °C…50 °C
Input current
0…1 A AC/ 0…5 A AC/ 0…10 A AC
Input frequency
50…60Hz
Number of inputs
1
Load impedance current
≤ 600 Ω
Number of outputs
1
Offset current
max. 100 µA
Output current
4…20 mA (current loop)
Output signal limit
Approx. 24 mA
Status indicator
LED ON: OK; LED flashing: signal out of range;
LED OFF: Error
Accuracy
0.5 % FSR
Configuration
DIP switch
Galvanic isolation
2-way isolator
Input/Output
1 /5/ 10 A AC / 4…20 mA (current loop)
Rail
TS 35
Step response time
typ. 700 ms
Temperature coefficient
≤ 200 ppm/K
Type of connection
Screw connection
Voltage supply
13…30 V DC, via output current loop
Clearance & creepage distances
≥ 5.5 mm
EMC standards
EN 55011, EN 61000-6
Galvanic isolation
2-way Isolator
Impulse withstand voltage
6 kV
Insulation voltage
4 kVeff / 5 s
Pollution Severity
2
Rated voltage
300 V
Surge voltage Category
III
Type of connection
Screw connection
Clamping range, rated connection
2.5 mm²
Clamping range, min.
0.5 mm²
Clamping range, max.
2.5 mm²
Our Other Product:
autonics sensor-encoder-temperature controller sales & supply price in bd
Thermocouples PT100-J type-K type sensors Availability in Bangladesh
Photoelectric Switch I-mark Color Sensor Sick KT5W-2N1116; Made In Germany Best price in Bangladesh