The NEO-DYN Adjustable Pressure Switch 100P52CC6 is a high-quality pressure switch that is design to monitor and control pressure. Moreover, In a variety of industrial applications. Therefore, this switch design with a adjustable set point. However, that allow it to easily configure to meet the specific pressure requirements of your system.
NEO-DYN Adjustable Pressure Switch 100P52CC6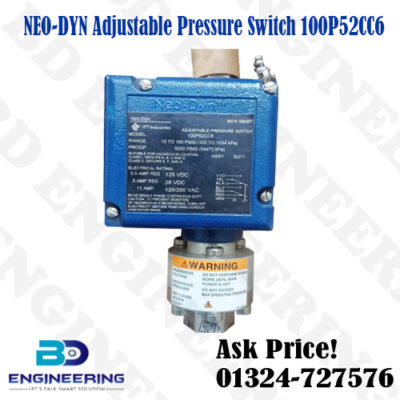 The 100P52CC6 switch constructed with a robust and durable stainless steel. Housing that provides long-lasting protection against harsh operating environments. It rated for use in a wide range of temperatures, from -40 to 180 degrees Fahrenheit. Making it suitable for use in extreme temperature conditions.
Moreover 100P52CC6
The switch features a single-pole, double-throw (SPDT) electrical configuration, which allows it to switch between two different circuits. This makes it ideal for controlling pumps, motors, and other equipment in a variety of applications.
The 100P52CC6  designed to handle pressures ranging from 10 to 6000 psi, making it suitable for use in a wide range of industrial applications. It features a compact and lightweight design that makes it easy to install in tight spaces, and its simple yet robust construction ensures reliable and consistent performance over time.
Overall, the NEO-DYN Adjustable Pressure Switch 100P52CC6 is a high-quality, versatile, and reliable pressure switch that designed to meet the demanding requirements of modern industrial applications. This product is now in our stock if you have any query please contact us or follow our BD Engineering Solution Facebook page
Our Other Products:
Photoelectric Sensor E3Z Series E3Z-R61 4M NPN 12 to 24 Vdc
EMF2177IB 15.29 CAN Lenze VFD Programmer for EV92XX Stateline 8400 Vector 8200
Speed Sensor SZB-22-03 Measure range:50~7000Hz size M22x1 thread length 70mm
E82ZAFSC Lenze Function Module for 8200 Vector Drive
Photoelectric P+E sensor GL30-IR/32/40a/98a modulated infrared light