In conclusion, Allen Bradley 1766-L32BWA price in bd The MicroLogix 1400 regulators give three interchange ports, However, a segregated blend RS-232/485 correspondence port (Channel 0), and an Ethernet port (Channel 1). Moreover, and a non-segregated RS-232 correspondence port (Channel 2). Therefore, The Channel 0 and Channel 2 ports on the MicroLogix 1400 can be associated
with the accompanying:
administrator interfaces, PCs, etc, utilizing DF1 Full
Duplex highlight point
DH-485 organization
 DF1 Radio Modem organization
 DF1 half-duplex organization as an RTU Master or RTU Slave
 Modbus network as an RTU Master or RTU Slave
 an ASCII organization
 an Ethernet network utilizing the Ethernet Interface module (list
number 1761-NET-ENI, or 1761-NET-ENIW)
 DNP3 network as a Slave
More About Micrologix
In other words, While associating with RS-485 organization utilizing DH-485, For instance, DF1 Half-Duplex Master/Slave, Modbus RTU Master/Slave, Above all,  or DNP3 Slave conventions, In other words, the MicroLogix 1400 can be associated straightforwardly. However, through Channel 0 without an Advanced Interface Converter, Furthermore, inventory number 1761-NET-AIC. However, the Channel 0 combo port gives both RS-232 and RS-485 segregated associations. Therefore, the fitting electrical. In other words,
point of interaction is chosen through your decision of correspondence link.
The current MicroLogix 1761 correspondence links give a point of interaction to the RS-232
drivers. The 1763-NC01 link gives a point of interaction to the RS-485 drivers. The regulator may likewise be associated with sequential gadgets, for example, standardized identification
perusers, weigh scales, and chronic printers. Moreover, other insightful gadgets. Additionally, utilize ASCII. See Default Communication Configuration on page 58 for the
design settings for Channel 0. MicroLogix 1400 can be associated straightforwardly with RS-485 organization by means of channel 0, utilizing ASCII. The MicroLogix 1400 backs EtherNet/IP™ correspondence by means of the Ethernet correspondence Channel 1. Likewise, either Modbus TCP or DNP3 over IP can be empowered for Channel.  1. You can interface your regulator to a neighborhood network that gives the correspondence between different gadgets at 10 Mbps or 100 Mbps.
However, this port backings CIP express informing (message trade) as it were. The regulator can't be utilized for CIP certain informing (constant I/O informing). The regulator likewise incorporates an inserted web server that permits the survey of not just module data. For instance, TCP/IP arrangement, and analytic data, yet addition. Additionally, incorporate the information table memory guide and information table screen utilizing a standard internet browser. See Chapter 4 for more data on associating with the accessible correspondence choices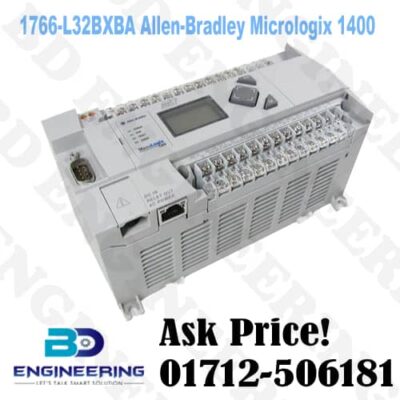 Allen Bradley 1766-L32 Bwa Price in Bd and Specification
| | | | | | |
| --- | --- | --- | --- | --- | --- |
| Catalog Number | Input Power | User Power | Embedded Discrete I/O | Embedded Analog I/O | Comm. Ports |
| 1766-L32BWA | 00/240V AC | 24V DC | 12 Fast 24V DC Inputs | None | 1 RS-232/RS-485(1) 1 Ethernet 1 RS-232(2 |
| | | | 8 Normal 24V DC Inputs | | |
| | | | 12 Relay Outputs | | |
For more information please contact our BD Engineering Solution Facebook page for a future update.
Our other product:
High air Pressure regulator valve 36 bar TYH-15 STNC
MicroLogix 1500 Programmable Controller 1764-28BXB1 ALLEN BRADLEY
Allen Bradley PowerFlex 40 Variable frequency Drive Inverter 4.0kw/5.0HP 342-528V 3 Phase