Delta Electronics Thermal Cooling System:
Chiller VFD Inverter Axial Cooling FAN brand is ebmpast, Delta electronics, Nidec Servo cooling and SUNON Americas thermal and non-thermal blower and cooling fan systems which is used Inverter, VFD and chiller system's.
Delta Electronics IP fans undergo the most rigorous testing against astringent environments, including rain and flooding, salt fog and moisture, and rigorous dust and dirt exposure
ebm-past Cooling System:
All conceivable types and applications of drive engineering have played an essential role at ebm-papst. In DC fans, ebm-papst set standards etc. In the changeover from AC fans to EC motors, ebm-papst is again doing pioneering work.
Ebmpast motors for AC connection are highly efficient and impress with their long service life, higher air flow and significant pressure increase.
Nidec Servo Cooling System:
Nidec Servo Cooling fan a variety of heat-resistance products to offer them as solutions. As the performance of Servo VFD , Servo Inverter and other products become exponentially higher in recent years, products that require fan exhaust & ventilation with reduce heating temperature's.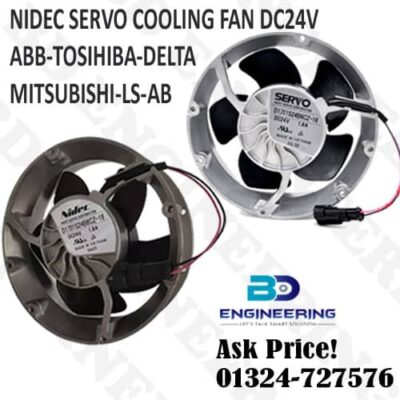 SUNON (Americas) Cooling Systems:

The SUNON's effective energy-saving EC fans can be used in a variety of environments. We pride ourselves on offering appropriate protection designs according to every client's individual needs.
IP protection water-proof EC fans with IP21, IP55, and IP68 and EC fan solutions. These high-quality protection designs ensure maximum EC fan longevity in most operating conditions.
Technical Specification:
| | |
| --- | --- |
| Brand Name | Ebm-past, Nidec, Delta, Sunon |
| Voltage | 12V, 24 V, 48V |
| Wattage | 10-60Watt |
| Cooling Method | Air System |
| Compatible Devices | Inverter or VFD, Chiller |
| Noise Level | 10-35.2 dB |
| Part No | |
| Max. Speed | 1000-7500 RPM |
| Max. Pressure | 200-850Pa |
| Noise up to | 10-95 |
| Air volume | |
| Application | ABB INVERTER, chiller and heating system |
| Termination | 2-4 wires |
| Current | 0.15-15 A, DC |
| Material type | Metal, High Plastic |
| Bearing type | Ball |
| Fan Speed | 1000-7500 |
| Product Type | cooling fan, thermal colling |
| IP |  IP20, IP55, IP54, IP65 ETC |