The Deep Sea G720 Auto Start Control Panel is a state-of-the-art control panel design. To provide reliable and efficient control of your generator. It is an essential component for any generator. Fffering advanced monitoring and control features. That help ensure optimal performance, efficiency, and safety.
One of the key features of the Deep Sea G720 is its ability to automatically start and stop the generator. In response to changes in power demand. This means that the generator will start up automatically in the event of a power outage. Ensuring that your critical systems stay up and running without interruption. The panel also provides advanced monitoring capabilities, including engine speed, oil pressure, and temperature, allowing you to keep a close eye on your generator's performance and identify any potential issues before they become serious problems.
More About Deep Sea G720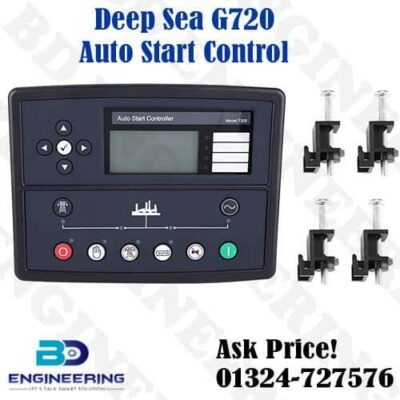 The Deep Sea G720 also includes a number of safety features, including automatic shutdown in the event of low oil pressure or high engine temperature. This ensures that the generator is protected from damage and helps prevent potentially dangerous situations from developing.
In addition to its advanced control and safety features, the Deep Sea G720 is also designed for ease of use. The panel is easy to install and configure, with intuitive controls and a user-friendly interface that makes it easy to monitor and adjust settings as needed. The panel is also compatible with a range of communication protocols, including Modbus and CANbus, allowing for seamless integration with a variety of systems.
Overall, the Deep Sea G720 Auto Start Control Panel is an essential component for any generator system. Its advanced features, reliable performance, and ease of use make it the ideal choice for anyone looking to maximize the efficiency and safety of their generator system. Whether you're looking to power critical systems during a power outage or simply looking to ensure reliable backup power, the Deep Sea G720 is the perfect choice for your needs. We are available on BD Engineering Solution Facebook page contact us for more information.
Our Other Products:
Wieland SNO 2004K AC/DC24V Safety relay R1.188.0410.3
Siemens Sinamics 6SL3246-0BA22-1BA0 G120 Control Unit CU250S-2
Terberg control systems caterpillar Generator touch monitor-hmi sales in bd
DANFOSS 060-117166 PRESSURE CUT OFF SWITCH KP5 8-32bar 1.4inch SPDT