The Hakko Electronics V606EM20 HMI is an advanced human-machine interface designed to provide precise and reliable. Control for a wide range of industrial automation applications. With its advanced features and flexible design. This HMI is the ideal choice for demanding applications that require fast and precise control.
At the heart of the V606EM20 HMI is a powerful processor that delivers fast and efficient performance. Even when handling complex control tasks. With its high-speed RISC processor and 64 MB of memory. This HMI is capable of running multiple applications simultaneously, ensuring maximum productivity and efficiency.
Hakko electronics V606EM20 HMI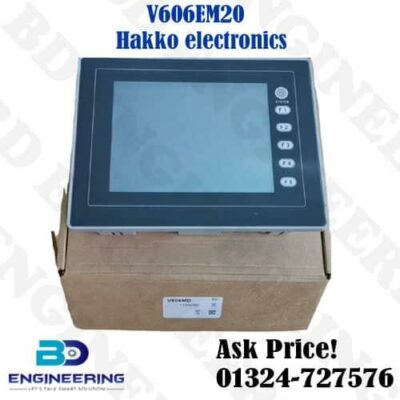 One of the standout features of the V606EM20 HMI is its intuitive and easy-to-use interface, which allows operators to quickly and easily access and control all aspects of their automation system. With a bright and clear 6.5-inch TFT display and touch-screen interface, operators can easily monitor and control all aspects of their system, ensuring maximum efficiency and productivity.
In addition to its powerful processing capabilities and intuitive interface, the V606EM20 HMI also features advanced communication and networking capabilities, including support for a wide range of protocols such as Ethernet and RS-232. This makes it easy to integrate the HMI into your existing automation system, allowing you to take advantage of its advanced features without having to replace your existing equipment.
Overall, the Hakko Electronics V606EM20 HMI is an outstanding human-machine interface that offers unbeatable performance, flexibility, and reliability. Whether you are working in manufacturing, process control, or any other industry that requires advanced automation capabilities, this HMI is the ideal choice. So why wait? Contact us today to learn more about how the V606EM20 HMI can help you take your automation systems to the next level. For more information please contact us or follow our BD Engineering Solution Facebook page.
Our Other Products:
Allen Bradley 4-Channel Analog Output Module 1762-OF4
V606EM10 Fuji Hakko Monitouch Price in bd | V6-Series Touch Screen HMI service
Fuji hakko MONITOUCH HMI V9150iXD V9 Series 15 inch touch glass sales price in BD
Fuji Hakko Monitouch Human Machine Interface | HMI v808cdn