The IGBT MODULE FP15R12W1T4 is a high-performance power transistor module that is ideal for a wide range of industrial applications. It is designed and manufactured by Infineon Technologies AG. A leading semiconductor solutions provider with a global reputation for quality and reliability.
The FP15R12W1T4 IGBT module is built using state-of-the-art technology, making it highly efficient and reliable. It features a low-loss design that minimizes power dissipation, making it ideal for use in high-frequency applications. With its high switching speed and low on-state resistance, it can handle high currents and voltages with ease.
One of the key features of the FP15R12W1T4 IGBT module is its compact design. It measures just 62mm x 37mm x 5.7mm, making it ideal for use in space-constrained applications. Despite its small size, it packs a powerful punch, with a maximum collector current of 15A and a maximum collector-emitter voltage of 1.2kV.
IGBT MODULE FP15R12W1T4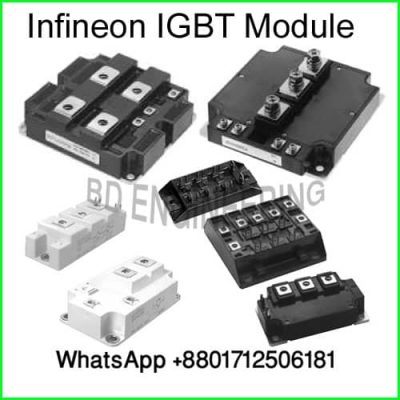 The FP15R12W1T4 IGBT module also features a built-in temperature sensor, which provides real-time feedback on the operating temperature of the module. This enables the module to operate safely and reliably in a wide range of environments, including those with high ambient temperatures.
Other features of the FP15R12W1T4 IGBT module include over-current protection, short-circuit protection, and under-voltage lockout protection. These features help to ensure that the module operates safely and reliably, even in the event of unexpected operating conditions.
Overall, the IGBT MODULE FP15R12W1T4 is an excellent choice for anyone looking for a high-performance power transistor module that is both efficient and reliable. Whether you are designing a new industrial application or upgrading an existing one, this module is sure to meet your needs and exceed your expectations. We are always available on BD Engineering Solution Facebook page. For more information please contact us and don't forget to follow our page.
Our Other Products:
IGBT Module 7MBR25SA120-60 1200V/25A Inverter-VFD-Ac Servo Drive in Dhaka-BD
Mitsubishi IGBT Module CM400HA-24H
2MBI200VH-120-50 200A IGBT Module FUJI Electric for VFD Repair kit
SKKD 162/16 Diode Module SEMIPACK1.6 kV 195 A 1.5V Dual Series