The 2MBI200VH-120-50 is a high-performance insulate-gate transistor (IGBT) module. However, design to deliver high levels of power and efficiency in industrial applications. With a maximum current rating of 200A and a voltage rating of 1200V, this IGBT module is capable of handling high-power applications in a variety of industries including renewable energy, transportation, and industrial automation.
The 2MBI200VH-120-50 is a fully isolate module, meaning that the IGBTs and diodes are isolate from each other and from the baseplate. This isolation helps to improve the reliability and durability of the module, ensuring that it can withstand the harsh operating conditions often found in industrial applications.
The module features two IGBTs and two freewheeling diodes arranged in a half-bridge configuration. The IGBTs are capable of switching frequencies up to 50kHz, making them suitable for use in high-frequency applications. Additionally, the module has a low on-state voltage drop, which helps to reduce power dissipation and improve overall efficiency.
2MBI200VH-120-50 200A IGBT Module FUJI Electric for VFD Repair kit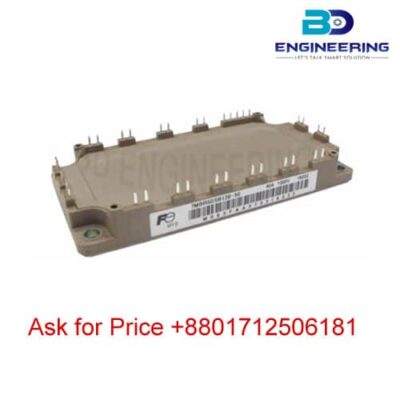 The 2MBI200VH-120-50 module has a compact size of 62mm x 140mm x 30mm and is designed for easy integration into existing systems. The module features a robust aluminum baseplate that helps to dissipate heat, ensuring reliable operation even in high-temperature environments. The module can be mounted using standard M6 bolts and has a weight of 480g, making it easy to handle and install.
The 2MBI200VH-120-50 module also features a number of built-in protection features, including short-circuit protection, overcurrent protection, and thermal protection. These protections help to prevent damage to the module and improve the overall safety of the system.
Overall, the 2MBI200VH-120-50 IGBT module is a high-performance and reliable solution for industrial applications that require high-power switching. With its compact size, high-frequency capabilities, and built-in protection features, this module is an excellent choice for engineers and technicians looking to optimize the performance and efficiency of their systems. Contact us or follow us on BD Engineering Solution Facebook page.
Our Other Products:
Schneider Inductive proximity sensors XS XS608B1PAL2
Schneider Panel HMI GTO4310 7.5 Inch Color Touch Display
IGBT Module 7MBR25SA120-60 1200V/25A Inverter-VFD-Ac Servo Drive in Dhaka-BD
Mitsubishi IGBT Module CM400HA-24H
SKKD 162/16 Diode Module SEMIPACK1.6 kV 195 A 1.5V Dual Series