Now Mitsubishi HMI GT2715 XTBD GOT2000 in bd price. BD Engineering Solution now provides this HMI. For all consumers, if you wanna know about the HMI GT2715 XTBD price in bd. Please contact us we are always available on Facebook & Whats app. If you need any unique product please contact us we try to provide you with the best product. We work with many brand products all over Bangladesh and we are the biggest industrial automation HMI spare parts importer in Bangladesh. How can you contact with us please follow this link For Facebook whats app number: +8801324-727573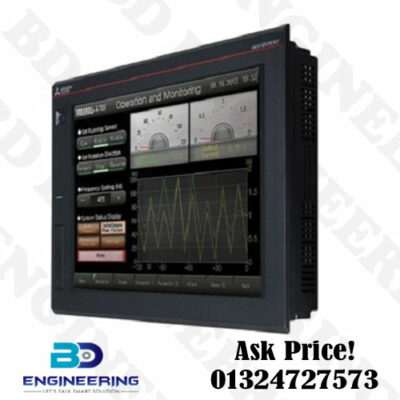 Mitsubishi HMI GT2715 XTBD Specification
Model
Mitsubishi GT2715-XTBD
Product name
GT27 model
The name of the series
GOT2000
Product Model Name
GT27
Display device
TFT color LCD
Screen size
15″
Resolution
XGA: 1024 x 768 dots
The size of the exhibition
304.1 (W) x 228.1 (H) mm (11.97 (W) x 8.98 (H) inch)
The number of characters displayed
16-dot standard font: 64 characters
12-dot standard font: 85 characters
Display color
65536 colors
Brightness adjustment
32 levels
Register number of screens
4096
Backlight
LED (not replaceable)
Backlight life * 4
White
Detection length
1 m
Detection temperature
Difference between man body and ambient air: 4°C or higher
Life (number of writing hours)
100000 times
Some Thing More About Human-Machine Interface
In computer science and human-computer interaction, the human-machine interface (HMI) refers to graphical, textual, and auditory information. Computer keyboard, computer mouse movement and selection with a touchscreen) assign the user to control the program. The following types of HMI are currently the most common. for Mitsubishi GT2715 XTBD price
The graphical user interface (GUI) receives input through devices such as computer keyboards and mice and provides clear graphical output to the computer monitor.
The web-based user interface receives input and provides output by creating web pages that are transported through the network and viewed by the user using a web browser program.
Operation The user must be able to control the system and evaluate the state of the system. Each control system vendor provides a unique look and feel for their basic HMI applications. An old, gender-neutral term is a man-machine interface (MMI).
The system can publish several user interfaces to serve different types of users. User interface screens can be optimized to provide appropriate information and control interfaces for operations users, engineering users, and management users.
For more products click here we are the best importer in Bangladesh for any product please contact us.