Schneider Panel HMI GTO4310 is now available on BD Engineering Solution. Many people ask for HMI GTO4310 price in bd. We informed our consumers please contact us by Facebook or Whats App we will send you the current price.  Now available Schneider Panel HMI GTO4310 in bd just contact us we can provide you the actual information.
For GTO4310 bd price?
Please contact us as soon as possible.
What is HMI?
HMI stands for Human Machine Interface.
Which kind of company uses HMI?
Now this day many industrial companies use automatic machines &  for their daily work. And workers use the Human Machine Interface panel for commanding.
How many brands of products do we have?
We have many kinds of brand products. We are the largest industrial automation spare parts supplier all over Bangladesh.
Do many consumers ask for Schneider HMI GTO4310 price in bd?
We informed our all consumer please contact our live support.
How can you contact us?
Please visit our Facebook Page and send us a message right now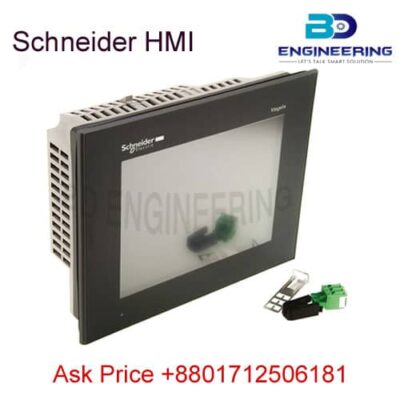 Schneider HMI GTO4310 Specification
| | |
| --- | --- |
| Product Range | Harmony GTO |
| Component type of product | Advanced touchscreen panel |
| Display color | 65536 colors |
| Display size | 7.5 inch |
| Supply | External source |
| Operating system | Harmony |
| Battery | charging time = 5 days, battery life = 10 years |
| Terminal type | Touchscreen display |
| Display type | Backlit color TFT LCD |
| Display resolution | 640 x 480 pixels VGA |
| Touch sensitive zone | 1024 x 1024 |
| Touch panel | The resistive film, 1000000 cycles |
| Backlight lifespan | 50000 hours white at 25 °C |
| [Us] rated supply voltage | 24 V DC |
| Supply voltage limits | 19.2…28.8 V |
| Inrush current | 30 A |
About More HMI 
A Human-Machine Interface (HMI) is a UI or dashboard that relates a person to a machine, system, or device. While the term can in fact be applied to any screen that permits a client to cooperate with a gadget, HMI is most normally utilized with regard to a modern cycle. Despite the fact that HMI is the most widely recognized term for this innovation, it is at times alluded to as Man-Machine Interface (MMI), Operator Interface Terminal (OIT), Local Operator Interface (LOI), or Operator Terminal (OT). HMI and Graphical User Interface (GUI) are comparative. However, not equivalent: GUIs are frequently utilized inside HMIs for perception capacities. Visit our store