Schneider Electric Servo Drive Lexium 750W 220V single phase. BD Engineering Solution provides best Schneider product at a good price. Schneider LXM23DU07M3X price in BD.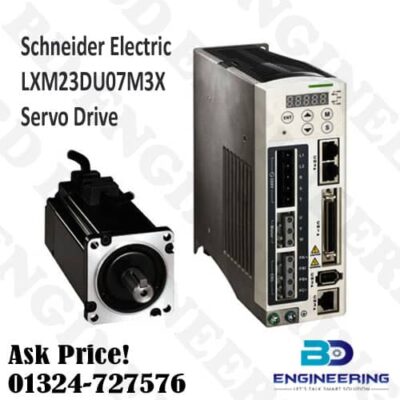 Schneider LXM23DU07M3X price in BD
Brand Name
Schneider
Product type
Servo Drive
Part Number
Range of product
Lexium 23 Plus
Component type
Phases Network No.
Rated supply voltage

220 V for single phase &

220 V for 3 phases

Supply voltage range

200 to 255 V for single phase &

170 to 255 V 3 phases

Supply frequency
50 or 60 Hz
Network frequency range
47.5 to 63 Hz
Output current
5.1 A continuous
Continuous power
750 W at 220 V
Nominal power
Current Leakage
> 3.5 mA
Output voltage

less or equal power supply voltage

Electrical isolation

Between power and control

Discrete Output No.
5
Discrete output voltage
12 to 24 V DC
Discrete output logic

Positive or negative logic

Analogue Input No
2
Absolute accuracy error
0.01 %
Communication interface type
Connector type
Method of access
Slave
Physical interface
Operating position
Vertical
Width (mm)
85
Height (mm)
162
Depth (mm)
180
More About Schneider LXM23DU07M3X
Schneider LXM23DU07M3X price in Bangladesh. Moreover, the servo drives and motors are perfect for a very wide range of positioning and precision speed control applications. Such as printing, packaging, winding and unwinding as well as materials handling. Therefore, the servo drives protect a wide range of power ratings like 0.1kW to 7.5kW. Here, two different types of power such as 200-255V Single Phase and 170-255V three phase. Schneider LXM23DU07M3X price in BD.
Our Other Product:
AC 220V Single Phase AC Motor Speed Controller 90W
Lexium Controller Axis controller LMC20 24VDC Schneider sales service in bd
LXM05AD34N4 Schneider Electric 3 kW Servo Drive 
Panasonic AC Servo drive 750W MCDLT35SF which is operate by Motor drive
Delta Single Phase E Series VFD and three Phase AC Drives Motor Power 0.5-500 HP