Great news Siemens Simatic TP277 6AV6643 0AA01 1AX0 is now available price in BD Engineering Solution. If you are finding this him please contact us as soon as possible. We are always available on Facebook and whats app. Many people ask for Siemens Simatic TP277 6inch Touch Panel 6AV6643 0AA01 1AX0 Bangladesh price. Therefore, If you have any queries please contact us. Let's talk about (HMI). A human-machine interface, or HMI for short, is a device that allows a person to give instructions and receive them. Feedback from the PLC that controls the production process. In other words, it's a means of inputting commands into your machine and gaining feedback about their status.
Our consumer asks for Siemens Siemens 6AV6643 0AA01 1AX0 bd price?
Every time we informed our consumers please contact our support team
What are HMI and HMI programming?
In the world of industrial automation, the programmable logic controller, or PLC, controls the plant floor equipment to create specific products. Although the field of automation has grown exponentially over the past few decades, humans continue to play an important role in operating, troubleshooting and maintaining these complex systems. HMI programming This programming is different from most other programming languages. The reason is that an HMI is a visual representation of what is happening on the manufacturing floor. Therefore, actual HMI programming is commonly referred to as HMI development because most of the time is spent designing the layout of the screens rather than writing code in the traditional sense of definition. In addition, the programming that will control the input and output of an. HMI Siemens 6AV6643 0AA01 1AX0 in bd will usually be in the PLC,
Giving the PLC programmer greater control over how HMI works. However, these two functions combine for the most part, and the PLC programmer will either be familiar with the process of creating the layout of the HMI screen or the process of indicating how HMI programming will take place.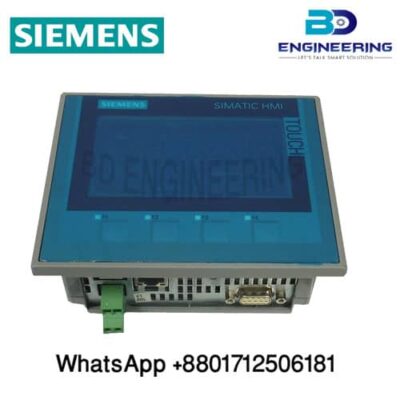 Human Machine Interface Functionality Basic and Advanced Features
The most basic HMI will allow the operator to see the current state of a particular process. Imagine for a second you had a grinding machine that you could start and stop at the push of a button. An HMI can be created to give a visual indication of the current state of the machine: stop or running. However, a PLC can pull a lot more information from this machine depending on the operation requirement. Therefore, HMI can be used to convey this information to the operator and allow him to make better decisions about the process. For more Siemens product please visit this like Click Here