The SIRIUS Safety Relay 3TK2828-2BB41 is a highly reliable safety device design. To ensure the safe operation of machinery and equipment in industrial settings. This safety relay is manufacture by Siemens. A trusted brand that has been providing. Innovative industrial solutions for over a century.
The 3TK2828-2BB41 safety relay is design to monitor and control safety-related circuits in a wide range of industrial applications. Including conveyor systems, packaging machines, and production lines. The device is capable of monitoring up to four safety. Functions simultaneously, making it a versatile and cost-effective. Solution for many industrial safety applications.
More About SIRIUS Safety Relay 3TK2828-2BB41 3TK2827-2BB41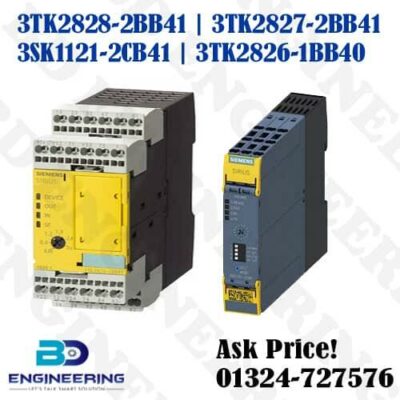 In other words, one of the key features of the SIRIUS Safety Relay. 3TK2828-2BB41 is its modular design, which allows for easy customization and expansion. The device can be easily configure to meet the specific safety requirements of different industrial applications. And additional modules can be added as needed to provide additional safety functions.
The safety relay is also equippe with advanced diagnostic features that provide real-time information about the status of the safety system. This information can be used to quickly identify and resolve any issues that may arise, ensuring that the safety system is always operating at peak performance.
The SIRIUS Safety Relay 3TK2828-2BB41 also meets all relevant safety standards and regulations, including EN ISO 13849-1 and IEC 61508. This ensures that the safety relay provides a high level of safety for both personnel and equipment, and helps to minimize the risk of accidents and injuries in the workplace.
In summary, the SIRIUS Safety Relay 3TK2828-2BB41 is a highly reliable and versatile safety device that provides a cost-effective solution for a wide range of industrial safety applications. Its modular design, advanced diagnostic features, and compliance with relevant safety standards make it an ideal choice for any industrial application that requires a high level of safety and reliability. We are available on BD Engineering Solution Facebook for more information.
Our Other Products:
Siemens 3TK2827-1BB40 24VDC 2NO 1NC Emergency Safety Relay
Siemens 3RW4047-1BB14 SIRIUS SOFT STARTER 106A 55KW 400V pricing
Relay Pilz Safety S7 Ident No: 750107 E-Stop Safety Relay Germany original product in Bangladesh
Safety Relay Pilz PNOZ X3 AC/DC E-Stop in Local Bangladesh
Pilz PNOZ S4, 24VDC E-stop Safety Relay 48-240VAC 3n/o, 1 n/c Indent No. 750134, 750104