The Thermistor Motor Protection Relay DTA01C230 is a state-of-the-art device design to protect electric motors. From damage due to overloading and overheating. This product manufacture by ABB, a well-known and trust name in the industry. And is built with high-quality components and advanced technology.
The DTA01C230 relay design to work with thermistors, which are temperature-sensitive resistors that are commonly used in motor protection applications. The relay monitors the resistance of the thermistors and uses this information to determine the temperature of the motor. If the temperature rises above a pre-set threshold, the relay will activate, sending a signal to the motor control system to shut down the motor and prevent further damage.
Thermistor Motor Protection Relay DTA01C230 Price In BD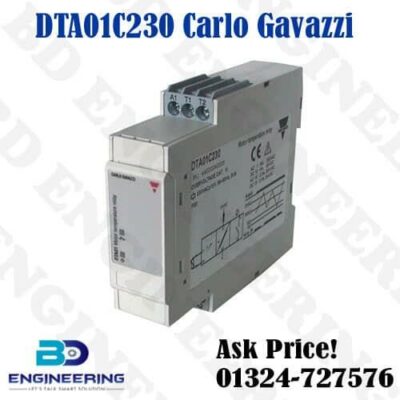 One of the key features of the DTA01C230 relay is its versatility. It can be use with a wide range of electric motors, including both single-phase and three-phase motors. It is also compatible with both AC and DC voltage systems, making it a versatile solution for a wide range of applications.
The DTA01C230 relay is incredibly easy to install and set up. In other words, it comes with a user-friendly interface and can be configure quickly and easily using the front panel buttons. Moreover, the relay also has a built-in LED display. For instance, that provides real-time information about the motor's status and any fault conditions.
Another key feature of the DTA01C230 relay is its durability. It is built with high-quality components and is design to withstand even the harshest environments. The relay is house in a rugge enclosure that provides protection against dust, moisture, and other environmental factors, ensuring that it will continue to function reliably even in harsh conditions.
Overall, the Thermistor Motor Protection Relay DTA01C230 is a highly reliable, versatile, and easy-to-use device that provides essential protection for electric motors. Its advanced technology, durable construction, and user-friendly interface make it an excellent choice for businesses and organizations that rely on electric motors for their operations. Whether you are protecting a small motor in a residential setting or a large industrial motor in a factory, the DTA01C230 relay provides essential protection and peace of mind. If you have any queries about this product please contact us or follow our BD Engineering Solution Facebook page.
Our Other Product:
0.5 KW to 300 KW Three Phase Siemens Variable Frequency Drives VFD
Motor Protection Safety Relay 3RN1012-1CK00
Siemens-Smart PLC 288-1ST40-0AA0-S7-200 CPU SR20-SR30-ST40-SR40-SR60-ST60